The June edition of Cinema a Go-Go entertained audiences last week, offering up a sci-fi double feature with Queen of Outer Space (1958) and Have Rocket, Will Travel (1959). As with every one of these events, the movies are rarely classics and the Liberty Hall attendees are ready to do their best MST3K impersonations.
The evening started out with The Three Stooges starring in Have Rocket, Will Travel. By this point, they'd left behind the short subjects and entered the twilight of their careers with primarily feature films, aside from a cartoon series in the mid '60s. Moe Howard and Larry Fine had made their cinematic debut nearly 30 years earlier in Soup to Nuts (1930) when Moe's brother Shemp was in the act and they were cannon fodder for Ted Healey. In the years that followed, Shemp left the act to be replaced by brother Jerome aka Curly, only to return in 1947 after Curley suffered a career-ending stroke. Upon Shemp's death in 1955, he was replaced by Joe Besser, who left the act in 1958. Here, Larry and Moe are joined by Joe DeRita aka Curly Joe, a different-yet-similar take on the late Curly Howard's character.
Have Rocket, Will Travel was their first film as primary leads in years and was the start of their final chapter in Hollywood. Cashing in on the space race and sci-fi themes popular at the time, we see our trio taking an unexpected trip to Venus. There, they encounter a talking unicorn, an alien computer and a giant fire-breathing tarantula. The Stooges revisit old routines in a weak script that features the boys singing a musical number, as well as an oddly placed and too prolonged party sequence at the end. At about 76 minutes long, their age is clearly evident as their best days were behind them. That said, you can't help but be taken back to a simpler age. The laughs were forced but still a fun start to a night of cheesy intergalactic fun.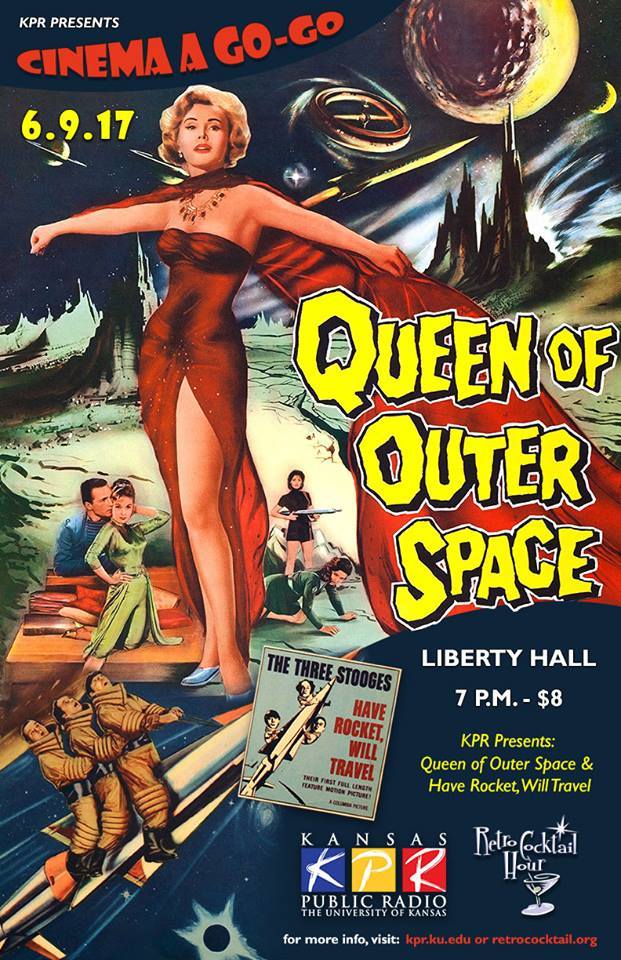 In the second feature, Queen of Outer Space (1958), Zsa Zsa Gabor stars as the lovely Talleah on yes…the planet Venus again. Here, the Venusians are under the rule of a mad queen (not Zsa Zsa) who has her sights on destroying Earth. From the sex-starved women to the misogynistic male space travelers, this movie is horrifically dated. There are numerous odd moments, such as why the professor has to get strapped in a red velvet bed before the rocket launches. This film comes across more as a spoof than serious sci-fi material and you can't help but laugh at just how bad this movie is. While the crowd offered up some commentary, they were a little quieter than normal, perhaps indicating that sometimes movies are so bad you can't even find enough sarcastic comments to say about them.
As always, Retro Cocktail Hour host Darrell Brogdon was on hand as our host for the evening, complete with the traditional intermission prize giveaway. This time, DVDs and ray guns were given away to an eager audience. The crowd appeared to be one of the larger in recent memory with a wide age-range. Cinema a Go-Go continues to entertain and attract an eclectic mix of film lovers, from true fans of these "classics" to children being introduced to this form of fine entertainment for the first time. Rest assured, Cinema a Go-Go always leaves everyone happy and entertained. The next event is scheduled for Aug. 25, so mark your calendars now!
Darrell Brogdon is heard every week on the Retro Cocktail Hour on Kansas Public Radio and other stations around the world, as well as streaming on the web. And if you haven't visited the TikiCat in Westport in Kansas City, make your reservations now for the first Wednesday of each month as Darrell hosts a live evening of the wonderful exotica music all of us fans have come to love!