We're starting our summer-long series of science fiction and horror flicks with Gold, a little-known German effort from 1934. While many of you may have never seen this movie before, it's possible you've already seen some of the special effects and footage in The Magnetic Monster (1953). However, the two movies are quite different with Gold being about a device that can turn base materials into gold while The Magnetic Monster deals with a radioactive creation.
After the international success of Der Tunnel (1933), a film about the construction of an undersea tunnel, director Karl Hartl began work on Gold, which took nearly 14 months to complete and was considered a big blockbuster for its' time.  It involves two scientists working on a device that will turn base materials, such as lead, into gold. When John Wills (Michael Bohnen), who believes his own plan is better, sabotages the project and kills one of the scientists, he sets his sights on the survivor, Werner Holk (Hans Albers), in hopes of learning his secrets to combine them with his project and become a billionaire.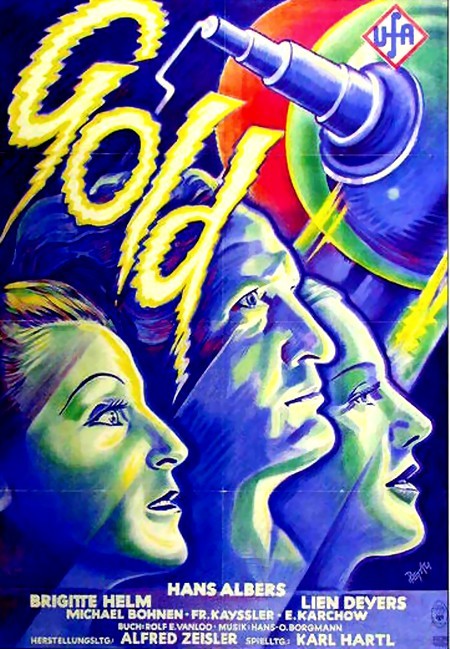 Meanwhile, once Holk discovers what is going on, he begins to formulate a plan to gain revenge on Wills and to avenge his late partner's death. However, Holk didn't plan on the lovely Florence (Brigette Helm), Wills' daughter, becoming a roadblock to his plans. And once the invention is revealed to the world, the economy begins to suffer as people begin to panic. Is John Wills really the philanthropist he presents himself as and will he see his plans succeed at the cost of mankind?
Gold is an epic for the time period, clocking in at two hours, and gives us some impressive special effects and set pieces. The story, written by Rolf Vanloo, is also a well-executed and detailed crime-drama with elements of science fiction thrown in for good measure. The end result is certainly not B movie fare with the main feature being the impressive reactor set, which was beautifully filmed and really serves as a setting for the cool climax of the story.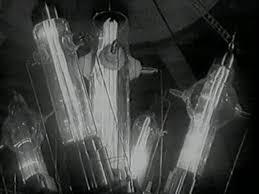 As was common for cinema at the time, a French language version was also filmed concurrently. Entitled L'Or, Brigette Helms would reprise her role but most other parts were recast with the leading character of Werner Holk becoming Francois Berthier. However, the original version has remained the most well-known today.
Gold was well-received by audiences at the time but the film slowly slipped into obscurity over the years, mostly due to being filmed in German and a dubbed version never having been completed. But Hollywood still knew of the film in 1953 when stock footage of the reactor and laboratory from the final act of Gold were used in The Magnetic Monster. Those scenes greatly enhance that movie and appear seamlessly for the most part.
I highly recommend Gold as it's a surprising little gem from the early days of German cinema. It is currently available on a bare-bones Blu-ray but worth adding it to your collection, especially if you are hungry for something new and different.