Countdown to Halloween – Day 14: Haxan (1922)
Cast:     Maren Pedersen as The Witch
Benjamin Christensen as The Devil
Written & Directed by Benjamin Christensen
Plot: The history of witchcraft from the dawn of time through 1922 is told in a documentary-like style using actors to portray historical figures. Everything from paganism to satanic worship is covered with sometimes graphic and horrific visual representations.
Personal Thoughts: Haxan is a very intriguing look at the world of witchcraft through the eyes of a 1920s filmmaker. This is clearly part documentary and part fiction as we are seen intentionally shocking visuals that are most likely less accurate and more fantasy. However, it's done in an engaging and entertaining way.  I loved the use of old drawings and appreciated the visual representation of demons that are almost comical by today's standards yet were horrifying at the time this was made. Well worth watching for its' historical significance as well as for pure entertainment.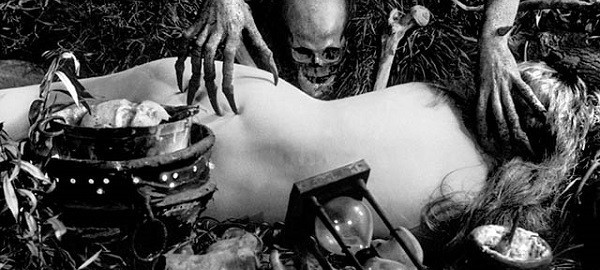 Trivia:
Several scenes were cut from the original release, including where a dead man's figure is removed from his hand, a nude woman embracing the Devil and numerous scenes of torture. All of these and more have since been restored.
The creators of The Blair Witch Project (1999) used the title of the film for their production studio, Haxan Films.
In 1968, a re-edited 76-minute version was released entitled Witchcraft Through the Ages, featuring narration by William S. Burroughs and a jazz musical score by Jean-Luc Ponty.
Availability: Available on DVD as part of the Criterion Collection.