Countdown to Halloween – Day 17: Half Human (1955)
Cast:      Akira Takarada as Takeshi Iijima
Akemi Negishi as Chika
Written by Takeo Murata & Shigeru Kayama
Directed by Ishiro Honda
Plot: A group of mountain climbers and a local village on Mount Fuji are terrorized by a strange yeti-like creature.
Personal Thoughts: Half Human is almost like a holy grail for DVD collectors. While I always support buying legit copies of films, sometimes the bootleg market is your only option. However, even that is a gargantuan task due to the scarcity of this film. Having finally viewed it, I can say it was quite enjoyable. It does drag in a few places but the setting is unique for a Toho film and the snow creature's design is quite good. The addition of the snow creature's child is an interesting twist that ultimately plays a key part of the movie. There are some scenes of man-on-woman violence that are quite graphic and might be a little unsettling to watch. That said, a great cast and interesting plot make this well worth tracking down in its' original Japanese version.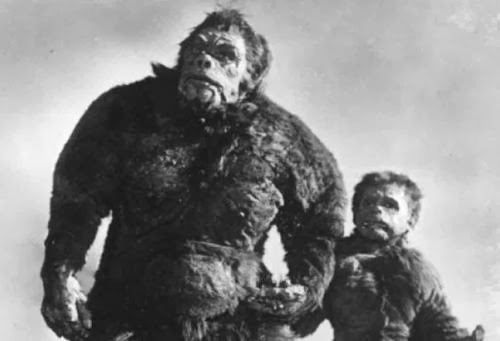 Trivia:
Toho has banned Half Human because of the negative depiction of villagers from Burakumin as being inbred savages.
Released in the United States in 1958 with much of the original Japanese footage replaced with a new American plot starring John Carradine. The end result is a poorly made film that has little resemblance to the original.
Availability: The original Japanese version remains unreleased on home video and is near impossible to find on the bootleg market. It will take patience and a master of Google Fu!