Countdown to Halloween – Day 21: The Man from Planet X (1951)
Cast:       Robert Clarke as John Lawrence
Margaret Field as Enid Elliott
Raymond Bond as Professor Elliott
William Schallert as Dr. Mears
Written by Jack Pollexfen & Aubrey Wisberg
Directed by Edgar G. Ullmer
Plot: A visitor from a rogue planet has landed in the foggy moors on a remote Scottish island. Professor Elliott and Dr. Mears are on the island to investigate the planet but get more than they bargained for. Is the alien friend or foe? And is there more to the mysterious Dr. Mears?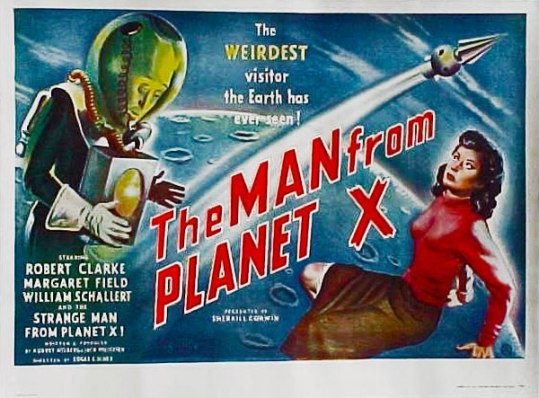 Personal Thoughts: I discovered this movie about a decade or so ago and fell in love with the different atmosphere presented on the screen. From the foggy moors to the local Scottish villagers to the unique looking alien creature, there is a lot to enjoy in this one. Now, the script is average, some of the acting isn't necessarily Academy Award worthy and it can be a little slow at times but, all that said, it's entertaining nonetheless. It was released in March 1951, nearly two months before The Thing from Another World (1951), despite it often erroneously being referenced as coming out second. Well worth checking out for the creepy surroundings and cool alien design (even if it was relatively cheap). On a side note, seeing this on the big screen at the October Cinema a Go Go was an awesome experience!
Trivia:
With a low budget and a shooting schedule of only 6 days, director Edgar G. Ullmer took advantage of available sets from Joan of Arc (1948), elevating the overall appearance of the film.
Harold Gould makes his film debut in the role of a frightened villager.
This movie inspired Steven Spielberg to use music as a form of communication in Close Encounters of the Third Kind (1978).
Availability: Available on Blu-ray from Shout! Factory.