Countdown to Halloween – Day 23: Bram Stoker's Dracula (1992)
Cast:      Gary Oldman as Count Dracula
Winona Ryder as Mina Murray
Anthony Hopkins as Von Helsing
Keanu Reeves as Jonathan Harker
Richard E. Grant as Dr. Jack Seward
Cary Elwes as Arthur Holmwood
Tom Waits as R.M. Renfield
Based on the novel by Bram Stoker
Screenplay by James V. Hart
Directed by Francis Ford Coppola
Plot: Jonathan Harker heads to a remote castle to meet Count Dracula and arrange his arrival in London. Unbeknownst to him, the count is a vampire and in search of fresh blood. The Count is entranced by a picture of Jonathan's fiancée, Mina, and travels to London, where he is headed to a confrontation with Professor Von Helsing, one of the few people who realize what he really is and how dangerous he can be.
Personal Thoughts: I had mixed feelings about this when I originally saw for the first time…and the second time…and finally this time. I think the film is visually great and Gary Oldman's performance is incredible. I also enjoy seeing Hopkins as Von Helsing although he's not perfect. However, Keanu Reeves is horribly miscast and really does seem to be sleepwalking his way through the film. The supporting cast is adequate but I wanted to see more of Tom Waits' performance as Renfield. I may not entirely agree with the focus shifting so much to Mina but it is something different, which I can appreciate. Overall, not my go to version of Dracula but I did enjoy it more this go around than in the past, so check it out again if it's been awhile for you as well.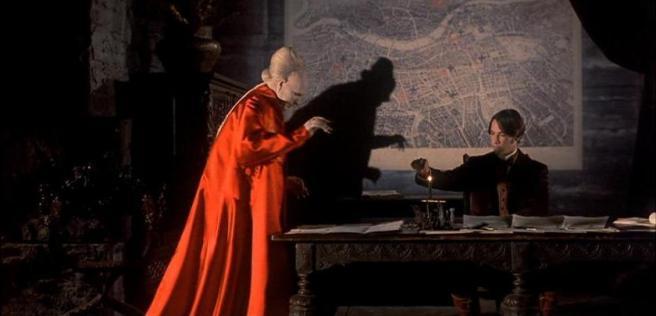 Trivia:
Keanu Reeves is not proud of his work in the film as he was tired after filming numerous movies back-to-back. His performance is considered one of the weakest points of the film.
Liam Neeson was originally considered for the role of Von Helsing until Hopkins had such a success with Silence of the Lambs (1991).
Johnny Depp was originally considered for the role of Harker but studio heads pushed for Keanu Reeves, who was incredibly popular in Hollywood at the time.
George Lucas recommended the final decapitation scene after being privately shown the movie.
Availability: Available on Blu-ray from Columbia Pictures.