Countdown to Halloween – Day 26: The Mad Magician (1954)
Cast:      Vincent Price as Don Gallico
Mary Murphy as Karen Lee
Eva Gabor as Claire Ormond
Written by Crane Wilbur
Directed by John Brahm
Plot: Don Gallico designs magic tricks which are sold to other magicians to be used on the stage. When Gallico starts a plan to start his own career, his boss stops his efforts, leading Gallico down a path of murder and revenge.
Personal Thoughts: I first discovered this film through a bootleg copy, which was actually hard to find. Now available in a beautifully restored print, I can say that the experience was greatly enhanced. The movie is not Price's best nor is it often mentioned among even the top films of his career. However, he turns in a fun performance as a man seeking revenge and falling farther down the rabbit hole. You'll get some House of Wax vibes along the way, just not quite as memorable. I enjoyed the magic setting and some of the comedic supporting characters were funny at times but they wore thin quickly. Well worth your time checking this one out as Price turns in an entertaining performance.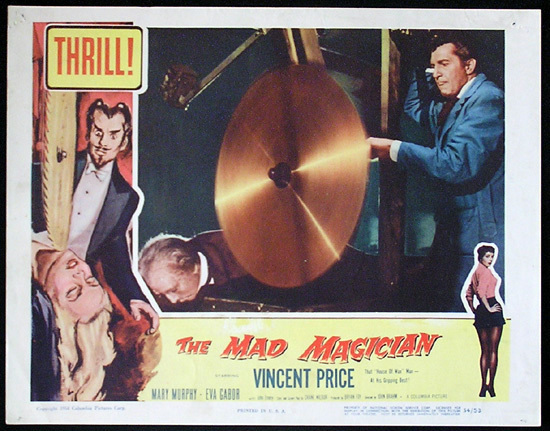 Trivia:
This was the very first movie to be broadcast in 3D on television.
One of the hardest Vincent Price films to find until Twilight Time issued their limited-edition Blu-ray.
Availability: Available on a limited edition Blu-ray from Twilight Time.