Countdown to Halloween – Day 27: Pit and the Pendulum (1961)
Cast:      Vincent Price as Nicholas/Sebastian Medina
John Kerr as Francis Barnard
Barbara Steele as Elizabeth Medina
Luana Anders as Catherine Medina
Based on the story by Edgar Allan Poe
Screenplay by Richard Matheson
Directed by Roger Corman
Plot: After Francis discovers that his sister has died of a blood disease, he suspects her husband, a descendant of a torturer of the Spanish Inquisition, of foul play. Castles, premature burial and a swinging pendulum make for a deadly recipe of fear.
Personal Thoughts: One of my personal favorites in the Corman-Price-Poe series due to the vibrant colors and fun performance by Price. It's always nice to see him in devilish roles but here, he gets to play a sympathetic and tortured soul before slipping into madness. The images of him slinking around while the pendulum swings out of control are classic. While we don't see too much of Barbara Steele, her addition here is greatly welcomed.  Per usual, the Poe connection is stretched pretty thin but better than in most Poe films. This is a true classic that is a must-see for any Vincent Price fan.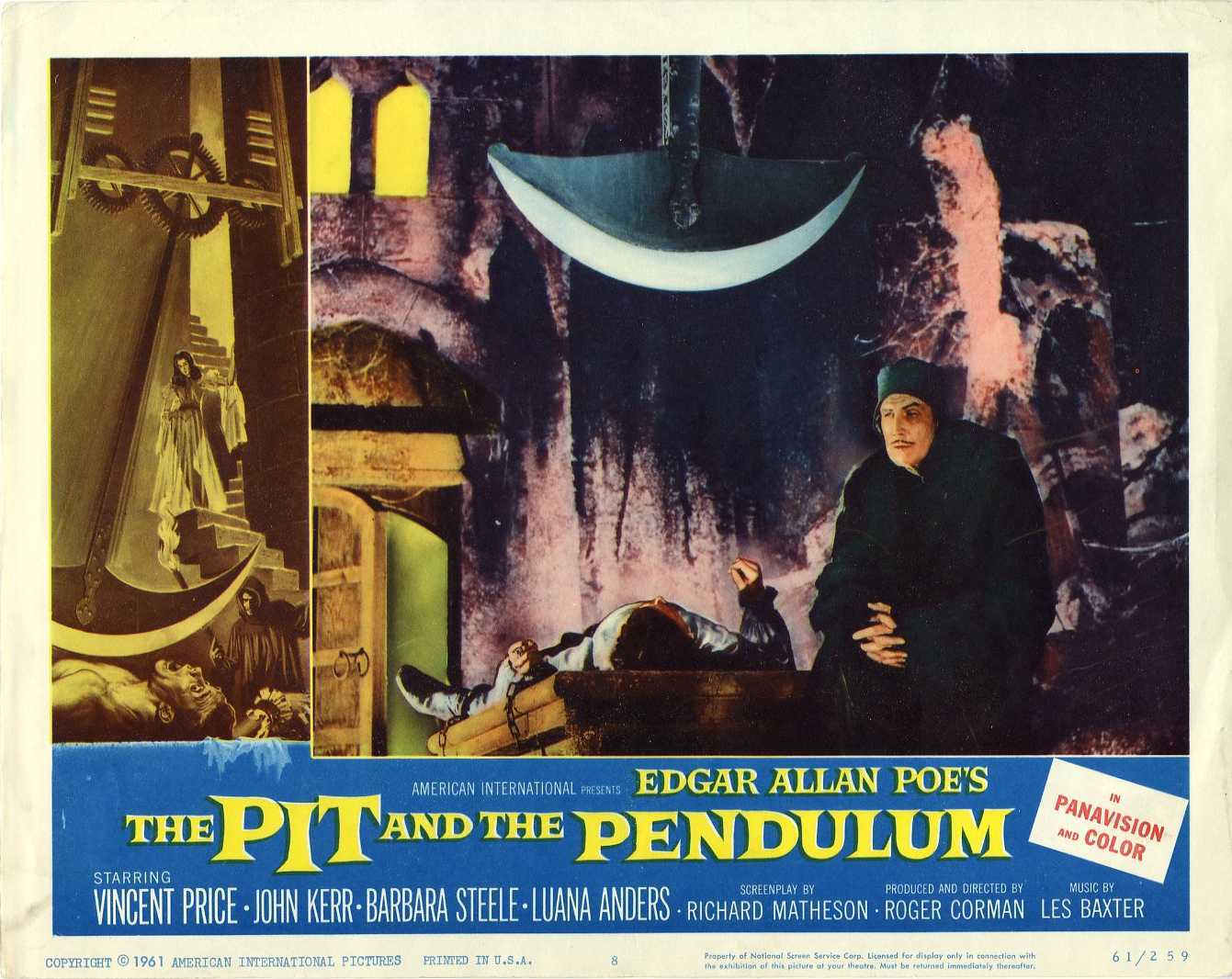 Trivia:
Roger Corman had every other frame removed the from the pendulum sequence to make it appear as if it was moving twice as fast.
This was the second in Roger Corman's Edgar Allan Poe series.
The opening prologue and scenes of Luana Anders in an asylum were filmed after the completion of the film to help pad out the running time for television distribution. They have nothing to do with the main film other than to offer an idea of what happened to Catherine after the end of the movie.
Availability: Available on DVD in numerous versions but the 4-film set from MGM appears to be the best bargain. If you can find the original Vincent Price Collection on Blu-ray for a reasonable price, grab it up as it is now out-of-print.