"You may be an undigested bit of beef, a blot of mustard, a crumb of cheese, a fragment of underdone potato. There's more of gravy than of grave about you, whatever you are!"
With three film adaptations of Charles Dicken's A Christmas Carol by 1910, early film was already beginning to advance. Slightly longer production times were becoming more common and many eyes in Hollywood were focused on adapting stage productions for the silver screen. This was also common in the UK, as many stage actors would begin to make the transition to cinema. However, the stage was still considered legitimate while film was still thought of as a passing fade by many. Enter Sir Seymour Hicks, the first actor to bring his stage performance of Ebenezer Scrooge to celluloid.
Hicks was born in 1871 and would make his stage debut at the age of nine. By 16, he was joining a theatrical company and touring America. In 1901, the year of the first film adaptation, Hicks graced the stage as Scrooge for the first time as well. At the young age of 30, Hicks began a lifelong relationship with the role. He would play the role thousands of time on stage, so it's no surprise that he would also play Scrooge on film not once, but twice. The first was in 1913 before Hicks had even turned 40.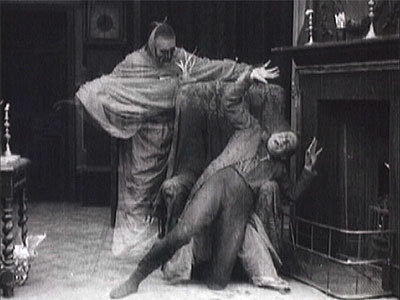 Scrooge (1913) opens with a brief description of the story to unfold with a vision of Charles Dickens writing the story. Then, a description of Scrooge is seen before the story proper begins with Scrooge arriving at his office. With a running time of 40 minutes, Scrooge is still considered a short film. However, at more than double the length of the previous 1910 adaptation, the extra running time allows for an expanded vision of the classic story.
Some aspects of the story seen in this version are not commonly present in other adaptations. There is a seen where a grocer comes to Scrooge for assistance to help feed the poor but is turned away. This replaces the more common scene of the local businessmen asking Scrooge for money. There is also a brief scene where Scrooge gives Cratchit a gift of a used quill which is also never seen in other versions. Granted, Scrooge makes a comment about it making Cratchit work better but I still found that scene particularly odd as it shows Scrooge in an almost more pleasant light too early in the film.
Another difference here is that Jacob Marley represents the Ghosts of Christmas Past, Present and Future. Now, this was a plot device that had been done in some of the previous, shorter versions but is an odd choice here considering the slightly longer running time. I also found the special effects less effective here than in the earlier versions. It may be that the shorter American productions were more innovative or had a bigger budget. The script also limits Scrooge's mobility, having everything take place in his office as well as Scrooge having visions of him helping Cratchit's family rather than actually displaying on screen. Poor Tiny Tim gets the short end of the script again but, at least, he gets mentioned here more than in the past. All that said, this UK production is still very well done and well worth watching to see the progression of Scrooge on screen.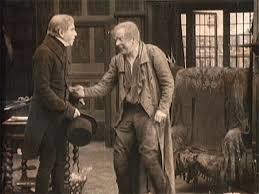 Scrooge wouldn't be seen in America until 1926, by which time it would have the title of Old Scrooge. It's likely that American audiences were less than impressed with this production as there had been quite a few advancements in film in the previous 13 years and 40-minute films were becoming overshadowed by longer and more elaborate productions. However, it would be the last of the silent film adaptations to survive for many years.
Five additional films were made between 1914 and 1928, including the first feature-length film in 1916. Sadly, most of these films are now lost with very little known about them. One short two-reel film version was made in 1922 as part of the UK series Tense Moments with Great Authors. In 1929, it was edited down to 9 minutes as an American one-reeler and that version still exists today. It was directed by George Wynn and starred H.V. Esmond as Scrooge. At 9 minutes, it clearly tells a greatly abbreviated version and is really nothing more than a curiosity by today's standards. That said, Esmond looks quite convincing as Scrooge with a performance that seems very similar to that of Alastair Sim from 1951s Scrooge. We also get to see two of the ghosts in addition to Marley, something overlooked in other versions. I would love to see the full-length version but, for now, this edited release gives us a glimpse of a fairly well-done production.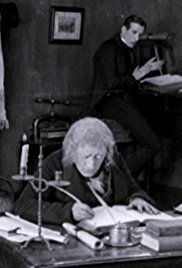 With the arrival of sound, Scrooge would lay dormant for a few years, resurfacing in 1935 with Sir Seymour Hicks reprising the lead role some 22 years after his 1913 film. It would start a new era of Scrooge with so much more of the original story making it to screen with the longer running times and bigger budgets. From Reginald Owen to Alastair Sim to Patrick Stewart, many actors would bring Scrooge to life in ways the actors from the silent era never could. However, there is a great charm and a certain amount of grittiness present in these early silent films. Future adaptations would expand on the tale, allowing the viewer to hear the change in Scrooge's voice and see all three ghosts on-screen. However, these silent films kept the story of Scrooge alive in the hearts of film lovers for generations, solidifying their importance in cinematic history.
"He had no further intercourse with Spirits, but lived upon the Total Abstinence Principle, ever afterwards; and it was always said of him, that he knew how to keep Christmas well, if any man alive possessed the knowledge. May that be truly said of us, and all of us! And so, as Tiny Tim observed, God bless Us, Every One!"