2018 Sci-Fi Horrorfest: The Bubble (1966)
Cast:       Michael Cole as Mark
Deborah Walley as Catherine
Johnny Desmond as Tony Herric
Written and directed by Arch Oboler
Plot: Mark and Catherine, who is having contractions and ready to give birth, are flying when a storm suddenly appears, taking them off course into a remote town that appears to be incomplete. The townspeople appear to be in a trance and mysterious objects from the sky. And what is the bubble that surrounds the town? They are trapped with no apparent avenue of escape but can they find a way out?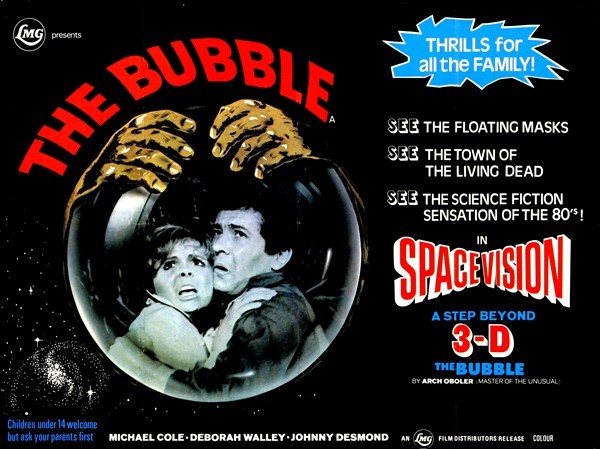 Richard's Review: After watching the trailer for the film, I knew we were in for something different. There are no scenes from the movie but plenty of promises that we're going to see something we've never witnessed before. It's going to be a space odyssey with a picture that floats off the screen and above our head. The marketing department called it "Space-Vision" but you might refer to it as…3-D. Not exactly a revolutionary idea, especially in 1966. Unfortunately, the 2-D presentation comes across as laughable at times.
Arch Oboler may have been the master of old time radio with Lights Out but he never quite dominated the big screen. His films, such as Five (1951) and The Twonky (1953), often come across as quirky. The Bubble had an interesting premise but only enough material for an episode of The Twilight Zone. Even spreading this out to fill out an hour TV show would have been a stretch. But at 95 mins, edited down from 112 minutes, it seems interminably long. Haphazard editing and a nonsensical script without a true ending really hurts the overall film. This one is hard to recommend except as an oddity and for fans of Arch Oboler. Not his best work.
Karla's Thoughts: The characters in The Bubble are clueless from the opening act, taking forever to figure out something is wrong and, even then, there is no logic to their actions. The poor editing leaves a lot of moments unexplained and characters magically getting from one location to another. With no explanation of how they got behind the bubble, why they are there or who the aliens are, it just seems like a lot of the movie is missing. Not a movie I would watch again.

Trivia:
Vic Perrin stars as the cab driver but may be better known for his numerous roles on Star Trek and voice work in countless animated shows.
Michael Cole is best remembered for his role as Pete Cochrane in 123 episodes of The Mod Squad.
The original run time was 112 minutes but many critics felt the pacing was too slow so Arch Oboler cut the film down to 91 minutes, which made the film hard to follow as times. The cut footage was lost for many years but was recently recovered in Deborah Walley's personal collection.
The film was re-released in 1977 with reduced runtime under the title Fantastic Invasion of Planet Earth.
Availability: The Bubble is currently available on Blu-ray from Kino Classics in both 2-D and 3-D formats.