2018 Sci-Fi Horrorfest: Earth vs. the Flying Saucers (1956)
Cast:        Hugh Marlowe as Dr. Russell Marvin
Joan Taylor as Carol Marvin
Donald Curtis as Major Hughlin
Morris Ankrum as Brigadier General Hanley
Screenplay by Bernard Gordon & George Worthing Yates
Screen story by Curt Siodmak
From the story Flying Saucers from Outer Space by Major Donald E. Keyhoe
Directed by Fred F. Sears
Plot: Dr. Russell Marvin and his bride Carol witness a flying saucer, which turns out to be the first of several sightings and a prelude to invasion. It seems these aliens come from a dying world and they've chosen Earth as their new home. Can Dr. Marvin create a weapon that can stop them or could this be the beginning of the end?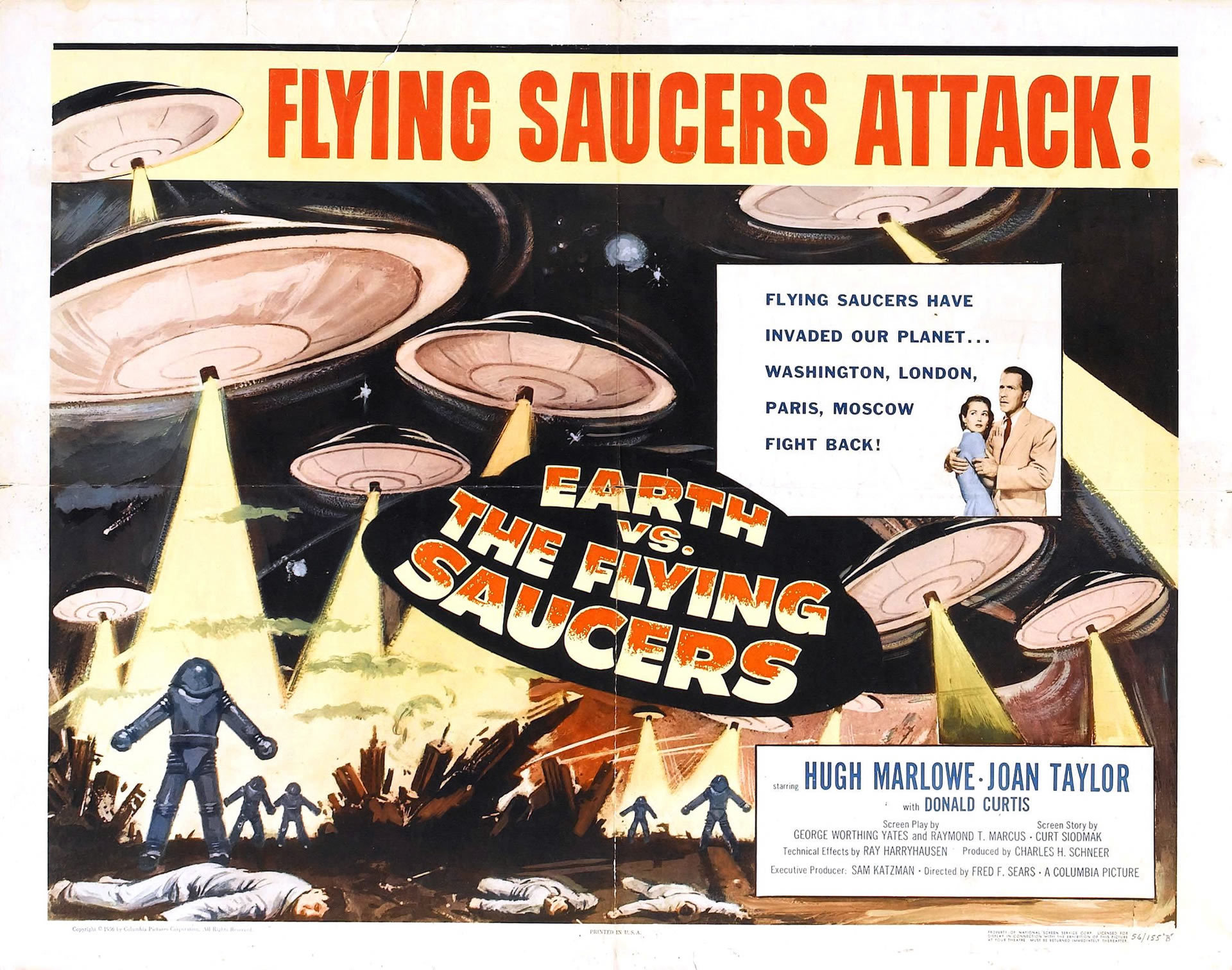 Richard's Review: I first watched Earth vs. the Flying Saucers on a hot Saturday afternoon in the late 70s. Rather than play outside, I opted to watch aliens and saucers on TV. I vividly remember the saucers destroying Washington D.C. and I've been hooked ever since. When Jeff Owens and I traveled to Oklahoma to see the Ray Harryhausen exhibit, I was disappointed none of the saucer props were on display. However, they are on exhibit in Europe as Ray still had several different versions and sizes of the spacecraft in his personal collection prior to his death.
For years, this film only existed in black and white but Ray supervised the colorization process to this film and the result really is amazing. The colors look realistic and truly make you feel as if it was originally filmed this way. I normally prefer my films to be in their original format but these Harryhausen colorizations are an exception. Not his best work but this is a fun afternoon matinee flick and well worth checking out in honor of Ray Harryhausen's upcoming birthday on June 29. He would have been 98 this year.
Karla's Thoughts: The special effects were awesome and I really enjoyed the story. I did think the alien spacesuits were a bit clumsy considering their advanced technology. I was also surprised at how easily they were defeated. And why didn't they just shoot their weapons from higher up and away from the Army's more basic weaponry? Minor complaints really as they didn't take away from enjoyment of the movie.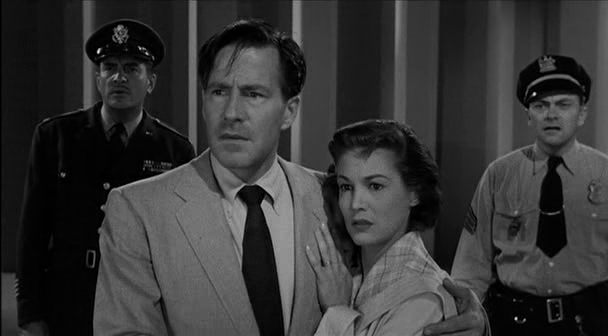 Trivia:
The film took advantage of substantial stock footage for scenes of destruction, rockets and aerial attacks.
Writer Bernard Gordon was originally credited as "Raymond T. Marcus" as a result of the Hollywood blacklist. His name was rightfully restored in the 2008 DVD release.
Ray Harryhausen's fifth feature film and first science fiction adventure.
Harryhausen contacted George Adamski for advice on the UFOs. Adamski had allegedly met aliens from other worlds.
The voice of the alien's was Paul Frees, best known as the ghostly voice in Disney's Haunted Mansion ride.
Availability: Earth vs. the Flying Saucers is available on a region-free Blu-ray in color as well as black and white formats.