2018 Sci-Fi Horrorfest: The Wasp Woman (1959)
Cast:        Susan Cabot as Janice Starlin
Anthony Eisley as Bill Lane
Barboura Morris as Mary Dennison
William Roerick as Arthur Cooper
Michael Mark as Eric Zinthrop
Screenplay by Leo Gordon
Story by Kinta Zertuche
Directed by Roger Corman (with uncredited sequences by Jack Hill & Monte Hellman)
Plot: Scientist Eric Zinthrop has found the fountain of youth in jelly taken from queen wasps. Enter cosmetics powerhouse Janice Starlin who needs to look younger so she can continue to be the face of her company before sales continue to drop. When she overdoses on the drug, the youth drug becomes the sting of death as she transforms in a wasp creature.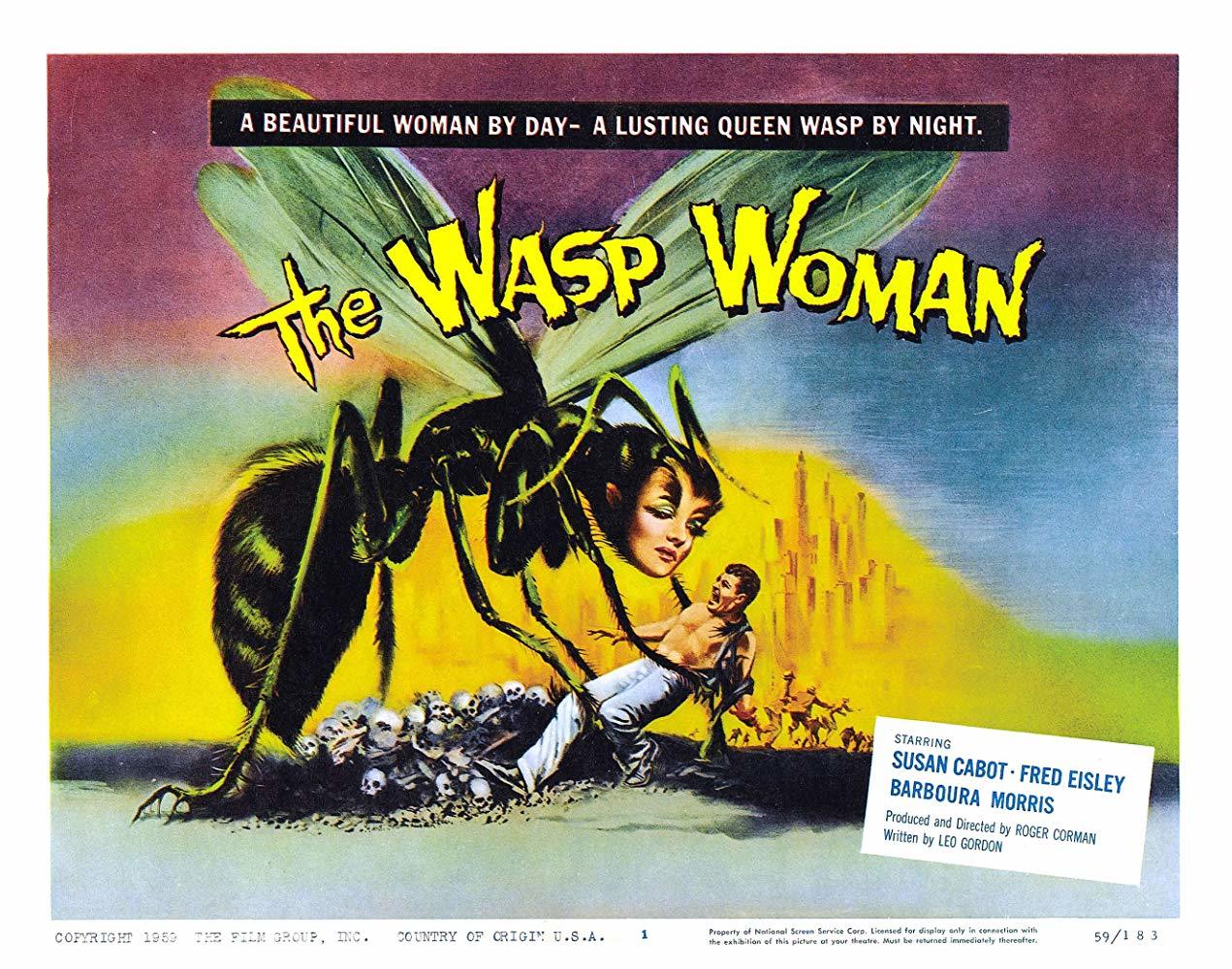 Richard's Review: This is definitely not one of Roger Corman's better films. It suffers from cheap interior sets and a very lackluster script. With other films like these, flaws can be overlooked by the fun of the monster or a good cast. However, the cast doesn't shine and the creature is rarely seen. When it does appear, the poor lighting makes it barely visible. With extra footage to flesh out an already poor script, there isn't too much to say on this one. It's not horrible, just forgettable, which is really a bigger kiss of death for any film.
Karla's Thoughts: I didn't care for this one at all. It was poorly made with bad special effects and a ridiculous script with a silly concept. The ending was also way too abrupt. I wouldn't watch this one again.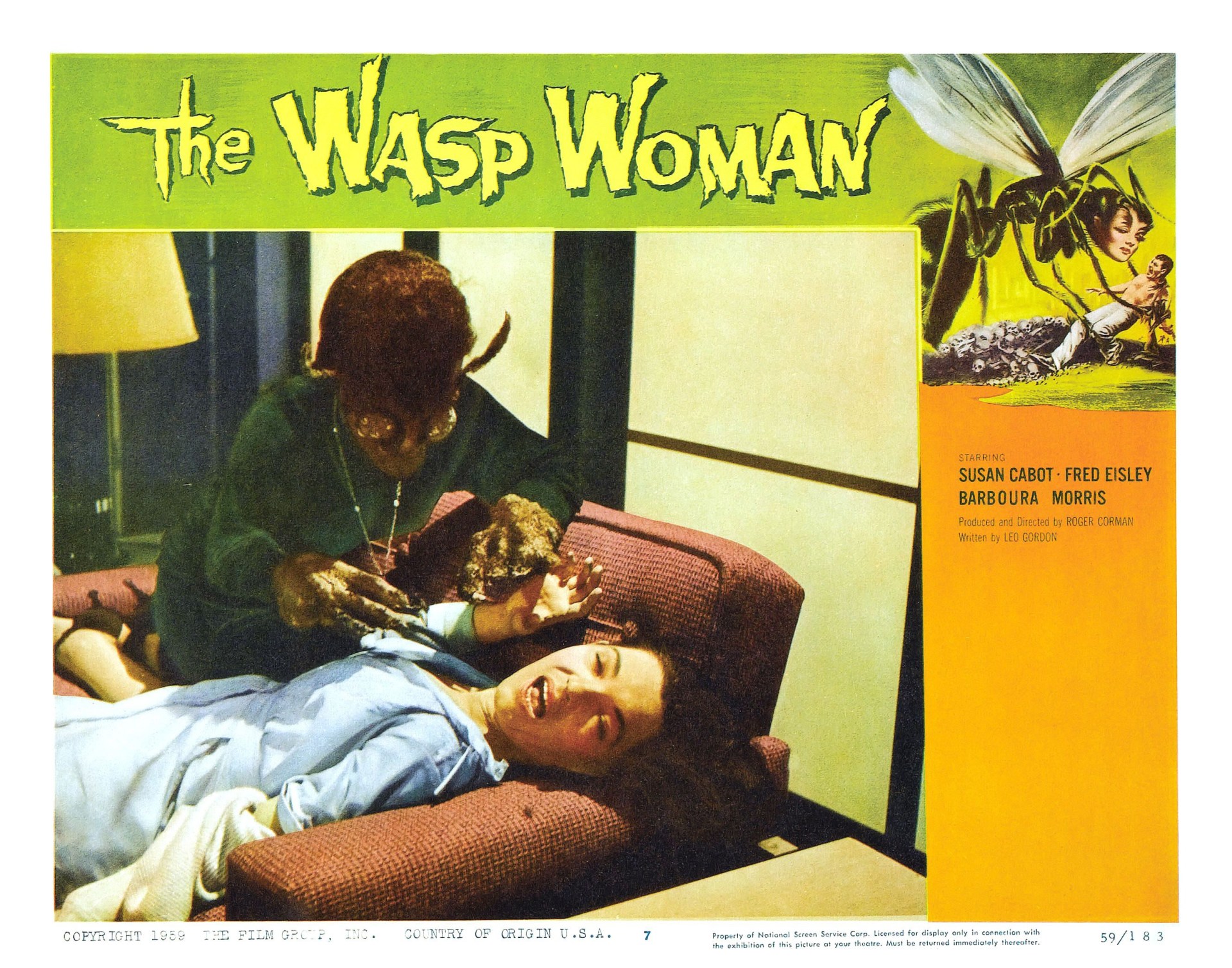 Trivia:
Susan Cabot had a well-publicized affair with King Hussein of Jordan in 1959. Despite the affair ending and King Hussein marrying another woman in 1961, Susan Cabot had a son in 1964, Timothy, who is believed to be the king's son. Timothy suffered from dwarfism and was put on a controversial medicine to help him grow. Susan left acting in films after The Wasp Woman to concentrate on stage work and musicals. She suffered from hereditary mental illness in later years, which rapidly declined in the final months of her life. Timothy remained at home on the medicine for his dwarfism and pituitary gland problems despite a growing hostility between mother and son. Susan was also taking his drugs, which enhanced her mental imbalance. On December 10, 1986, after his mother went into a psychotic rage and allegedly attacked him, Timothy would bludgeon her to death with a weightlifting bar. He would claim the medication he was on affected his mental stability, in addition to years of mental and physical abuse at the hands of his mother. At the resulting trial, the judge gave him a suspended sentence and probation. He died in 2003 at the age of 38.
The movie was originally 63 minutes long, which was considered too short for syndication on television. So Roger Corman hired Monte Hellman to shoot additional footage to stretch out the length to 73 minutes.
One of the extra sequences filmed for television occurs when two men search the streets for the missing Dr. Zinthrop (Michael Mark).
Character actor Michael Mark is better known for his roles in several Universal Horror classics, including Son of Frankenstein (1939).
Availability: The Wasp Woman is in the public domain and can be found for free everywhere. However, it is on Blu-ray paired with Beast from the Haunted Cave if you want to add it to your collection.