On August 16, 1956, we lost one of the true cinematic horror legends when Bela Lugosi passed away at the age of 73 after suffering a heart attack. His twilight years were filled with both a diminishing career and declining health. His final role of a mute servant in The Black Sleep (1955) was far removed from his performance as Count Dracula. However, he was clean and sober at the time of his death and, one would hope, happy with whatever work his relationship with Ed Wood would generate.
During the earlier part of his long career, Lugosi would often play characters of varying nationalities, including Asian villains. Of course, by today's enlightened standards, this is politically incorrect and many of these early films rarely get shown on television or released on home media. They can sometimes be painful to watch but I've always believed they should be made available with appropriate educational material to ensure future generations see the mistakes we've made in the past so that we do not repeat them in the future.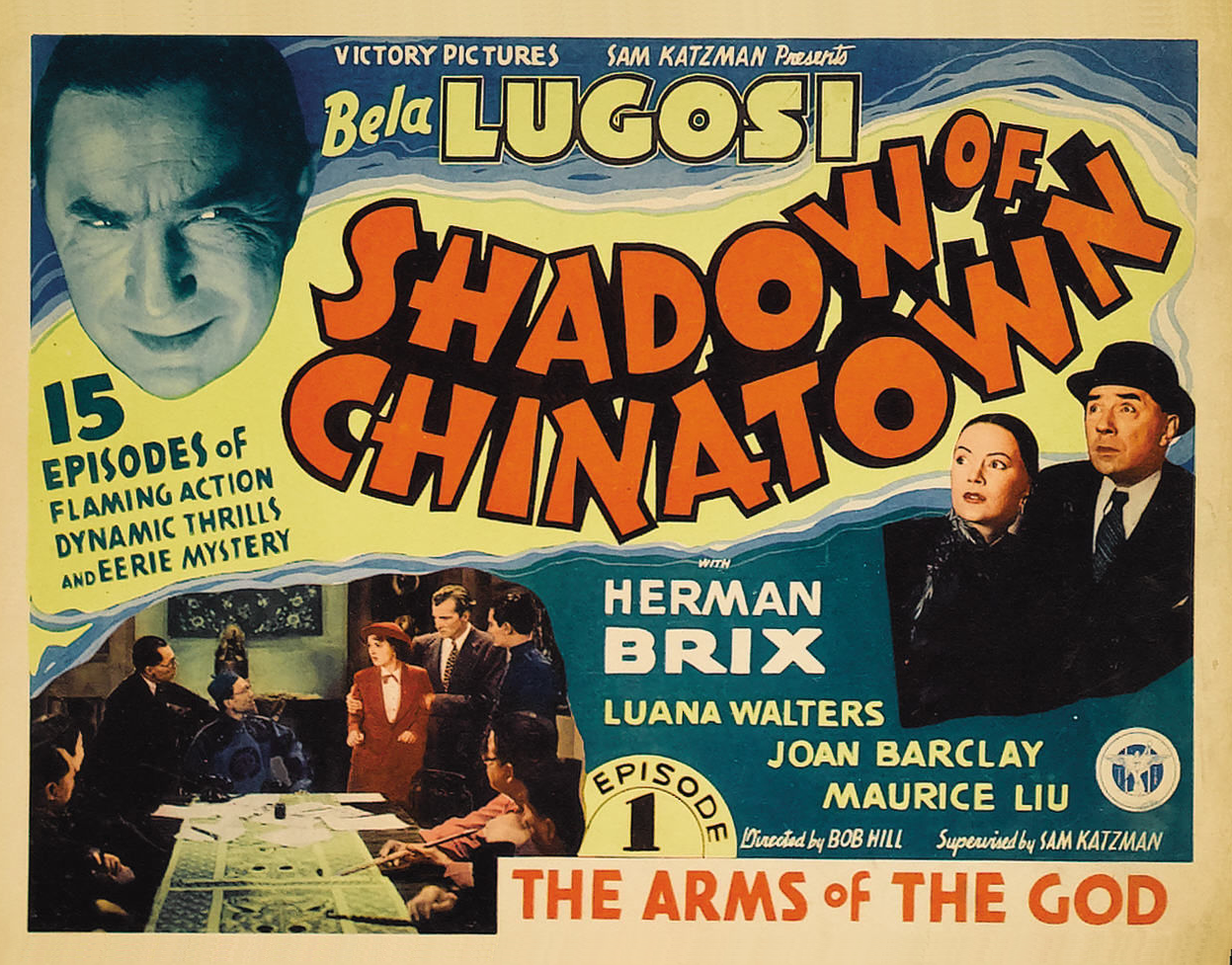 For Lugosi, one of these roles came in the character of a mad Eurasian scientist by the name of Victor Poten in the 15-chapter serial Shadow of Chinatown (1936). This serial was virtually forgotten by modern audiences until Alpha Video released it on DVD in the early 2000s. Essentially the story is about a trade war in Chinatown involving Sonya Rokoff (Luana Walters), known as the Dragon Lady, hiring Poten to put pressure on the Chinese merchants. Of course, he hates all races, white and Chinese alike, so he begins down a path of setting dangerous traps in the underworld, mostly set against Joan Whitling, a newspaper reporter, her boyfriend Martin Andrews (Herman Brix), his servant Willy Fu (Maurice Liu), and the local police.
Chapter serials were designed to be seen once a week over the course of 12 to 15 weeks with each installment lasting between 15 and 20 minutes, or the equivalent of two film reels. Every chapter ends with a cliffhanger that is usually quickly resolved in the next chapter. By the end, the villain has met his demise after what seems like a very long journey of chase scenes, fights and impossible situations. All that said, I love chapter serials but they are best viewed in multiple settings as they can get very repetitious quite quick. Such is the case with Shadow of Chinatown, one of only two chapter serial made by Sam Katzman's Victory Pictures.
Despite being made in 1936, its limited dialogue and soundtrack seem reminiscent of an early talkie. The script, written by director Robert Hill (Tarzan the Fearless), seems way more convoluted than it needed to be. The Asian characters are very difficult to watch, especially Willy Fu, as they are so one-dimensional. Even Lugosi's character offers very little beyond a stereotypical Asian villain. However, for Lugosi, this was work at a time that horror movies weren't being made. It wasn't his first chapter serial or his last. Unfortunately, it is one of his lesser efforts and a real struggle to get through with a running time of over four hours.
If you're a Lugosi completest like me, put this towards the bottom of your viewing list. It's fallen into the public domain, so you can find it very cheap or, better yet, for free on YouTube or archive.org. Save it for a rainy weekend and break up your viewing over at least four or five settings. Better yet, watch the condensed feature film version. It won't improve the poor quality but it will at least make the bitter pill a little easier to swallow.