2018 Sci-Fi Horrorfest: The Monster That Challenged the World (1957)
Cast:        Tim Holt as Lt. Commander John Twillinger
Audrey Dalton as Gail MacKenzie
Hans Conried as Dr. Jess Rogers
Story by David Duncan
Screenplay by Pat Fielder
Directed by Arnold Laven
Plot: An earthquake in the Salton Sea releases prehistoric mollusks on the nearby Naval base and community. Can they be stopped before reaching the canal that would allow them to terrorize the world?
Richard's Review: This isn't one of the greatest giant monster flicks of the 50s but not one of the worst either. The giant mollusk doesn't seem that threatening once out of the water but I'll admit, it would terrify me underwater. The main lead of Lt. Commander Twillinger has to be one of the most unlikeable leading men at the start of the film. Thankfully, he softens up a little as the story progresses and he begins to romance Gail and win over her daughter. As with most giant monster flicks, it wraps everything up swiftly at the end. It's definitely a nice afternoon matinee or late night movie choice.
Karla's Thoughts: Once I was able to get past the impracticality of the giant mollusks, I actually enjoyed this one and would watch it again. It's definitely a turn your brain off at the door type of movie but it worked.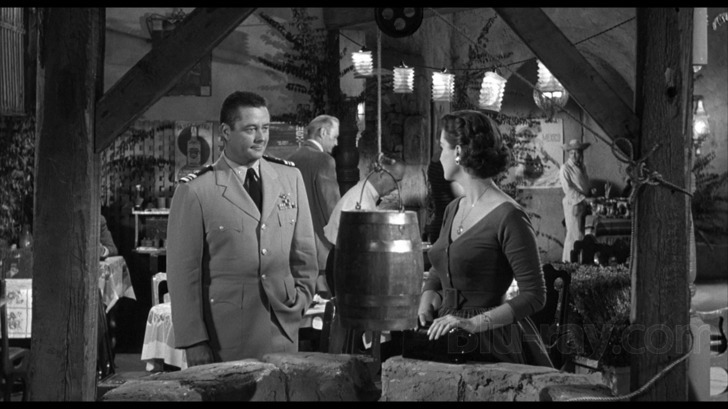 Trivia:
This is a great visualization of the boom years of the Salton Sea. Unfortunately, due to rising saline levels and pollution, much of the area is now a ghost town. Tourists now go to take a glimpse at what once was a thriving area. The Naval base was abandoned in 1978.
Charles Herbert (13 Ghosts) appeared as the boy with Morty's cap.
Max Showalter, who starred as Dr. Tad Johns , was from Caldwell, KS and is known for a variety of character actor roles, including Indestructible Man (1956), The Music Man (1962) and his last, as Grandpa Fred in Sixteen Candles (1984).
Availability: The Monster That Challenged the World is available on Blu-ray from Kino Lorber. There is an audio commentary from Tom Weaver but not much more. However, it's well worth adding to your collection.