2018 Countdown to Halloween – Day 6: The Skull (1965)
Cast:        Peter Cushing as Christopher Maitland
Christopher Lee as Sir Matthew Phillips
Patrick Wymark as Anthony Marco
Jill Bennett as Jane Maitland
Based on the story The Skull of the Marquis de Sade by Robert Bloch
Screenplay by Milton Subotsky
Directed by Freddie Francis
Plot: Collector Christopher Maitland acquires the skull of the Marquis de Sade and soon discovers it possesses evil powers that ultimately threaten his very sanity…and life.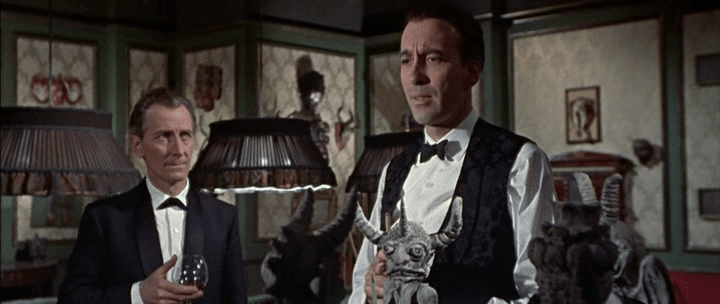 Richard's Review: I've seen this one a few times over the years but it had been quite a while since my last viewing. I never realized before how much padding this movie has. There was definitely enough there for a good entry in an anthology film but fleshed out to nearly 85 minutes and the plot becomes a little thin. Cushing is amazing, as always, and Lee brings his best for his short three scenes, thus his "guest star" status. While they both make the movie well worth watching, you'll get a little dizzy as the plot seems to go in circles towards the latter half. A tighter script and shorter running time would have helped immensely.
Karla's Thoughts: I loved seeing Peter Cushing and Christopher Lee together again but this one dragged out quite a bit. I got a little confused at times, trying to determine what was real and what was perhaps all in Maitland's mind. I also had a hard time believing the skull could be so dangerous on its' own despite the supernatural powers. Not sure I'd watch this one again despite Cushing and Lee.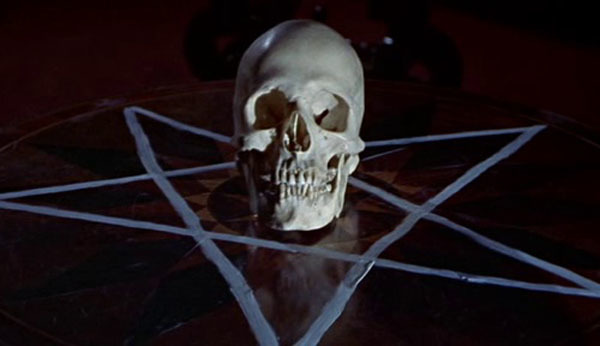 Trivia:
The heirs of de Sade pressed charges and demanded his name be removed from all press on the film, forcing last minute changes to movie posters and other related material.
Robert Bloch is better known for writing Psycho, which became a 1960 film directed by Alfred Hitchcock.
Availability: The Skull is available on Blu-ray from Kino Lorber or for about half the price from Legend Films and paired with The Man Who Could Cheat Death.  I watched the Kino Lorber version and it had two nice extra feature interviews.