2018 Countdown to Halloween – Day 11: Santo contra Los Zombies (1961)
Cast:        El Santo as El Santo/The Saint
Armando Silvestre as Lt. Sanmartin
Jaime Fernandez as Detective Rodriguez
Dagoberto Rodriguez as Detective Almada
Irma Serrano as Detective Isabel
Story by Fernando Oses & Antonio Orellana
Adapted by Antonio Orellana & Benito Alazraki
Directed by Benito Alazraki
Plot: An evil scientist creates zombies from dead criminals in a mad plot to conquer the world. Can Santo stop him before it's too late?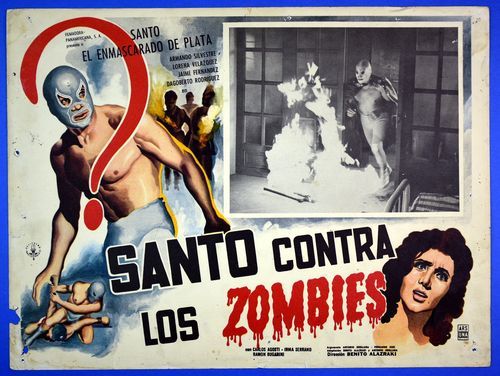 Richard's Review: This film established many of the familiar plot points for the Santo film series. Santo is very much a superhero, with a secret headquarters, cool car and the police call on him for help when the bad guys cause trouble. Here, a mad scientist, complete with 1940 chapter serial type hood, is turning men into zombies. It gets a bit crazy once we realize the zombies are impervious to bullets and they seem to spark like robots. But, you have to go into these flicks knowing that logic seldom plays a key role in the plot and that Santo will break away from the action at any time to head down to the ring for a match. This is definitely a fun way to kick off a Santo marathon and well worth checking out if you can find it.
Karla's Thoughts: I had to turn off my scientific brain to understand what type of zombies these were. I found it weird that they couldn't be killed. The scientist almost seemed more like a Dr. Frankenstein type character. Not as much wrestling as some of the other movies, which is a good thing (for a non-wrestling fan). I enjoyed it and would watch it again. Not my favorite but not my least favorite either.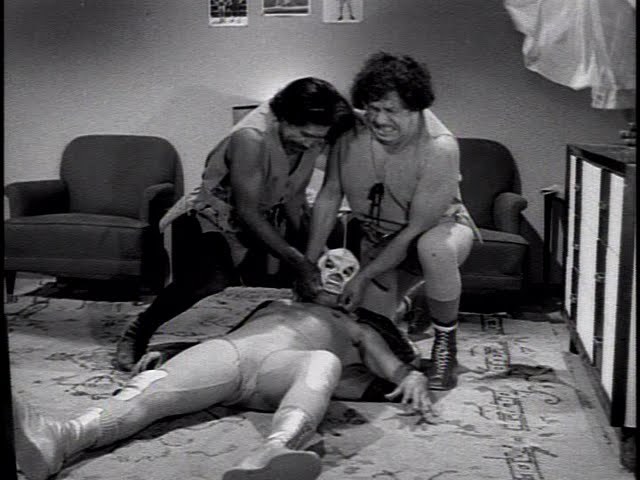 Trivia:
Santo starred in 50 films between 1958 and 1982, with two other cameo appearances in genre-related films.
Santo turned down the opportunity to star in El Emascarado de Plata in 1952 for reasons unknown. El Medico Asesino took the lead role in that film but would not appear on film again until 1971 in Los Campeones Justicieros (The Champions of Justice).
Santo made his film debut with a smaller role in two films made in Cuba, Cerebro del Mal (1958) and Santo contra Hombres Infernales (1958). However, it wasn't until this film that the familiar format for the Santo films would be established.
One of only four Santo films dubbed in English.
Availability: You'll need to do some searching for this Santo film as it's a harder one to find on DVD with subtitles.
Special Thanks: Do yourself a favor and purchase a copy of The Mexican Masked Wrestler and Monster Filmography by Robert Michael "Bobb" Cotter. It has a ton of fantastic information and helped this writer flesh out the reviews for the Santo films.