2018 Countdown to Halloween – Day 12: Santo Contra Las Mujeres Vampiro (1962)
Cast:        El Santo as El Santo/The Saint
Lorena Velazquez as Zorina
Maria Duval as Diana Orlof
Jaime Fernandez as Inspector Carolos
Augusto Benedico as Professor Orlof
Ofelia Montesco as Tundra
Story by Antonio Orellana, Fernando Oses & Rafael Garcia Travesi
Adapted by Rafael Garcia Travesi
Directed by Alfonso Corona Blake
Plot: Tundra is a vampire priestess must fulfill a prophecy to save Zorina, queen of the vampires. She must turn Diana Orlof into a vampire but Diana's father seeks the help of Santo to stop the evil vampires before it's too late.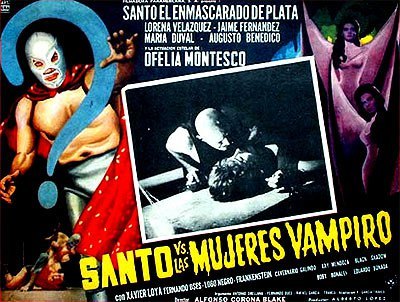 Richard's Review: This flick is so much fun and was my introduction to the films of Santo. I've seen both the dubbed version and the original Spanish version. Needless to say, if you can watch these films in their original language, that's always the way to go. There is so much atmosphere in the opening sequence, you know you you're in for a great time. Sure, there are some crazy plot points and maybe a little too much wrestling at times but Santo is definitely feeling comfortable in his role as our superhero to call on in our hour of need. The wrestling action plays into the story this time and the craziness is simply too fun to pass up. And the ending with Santo lighting the coffins and vampires on fire is fantastic (too bad it is seen in the trailer). Highly recommended!
Karla's Thoughts: I really liked this one a lot and I can say this is my favorite Santo film so far. There was a little too much wrestling for me and it would cause me to lose track of the story. However, the rest was incredibly atmospheric . I found the way the vampires gathered blood to be unique but a little more convoluted than simply biting someone. Minor flaws aside, I would definitely watch this one again.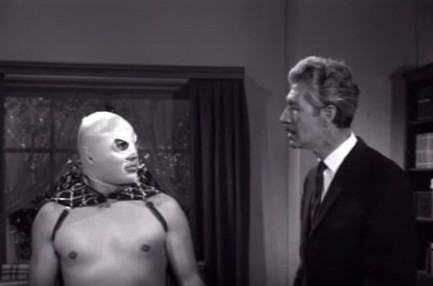 Trivia:
Lorena Velazquez also starred in another popular cult classic, Las Luchadoras vs. La Momia (1964) aka The Wrestling Women vs. The Aztec Mummy.
Ofelia Montesco also starred in Santo vs El Estrangulador (1963).
One of four Santo films dubbed in English and one of three released in the United States by K. Gordon Murray.
Availability: You'll need to do some searching for most of the Santo films. This one is most easily found under the title Samson vs. the Vampire Women but the original with subtitles is, of course, preferred if you can find it.
Special Thanks: Do yourself a favor and purchase a copy of The Mexican Masked Wrestler and Monster Filmography by Robert Michael "Bobb" Cotter. It has a ton of fantastic information and helped this writer flesh out the reviews for the Santo films.