2018 Countdown to Halloween – Day 13: Santo en el Museo de Cera (1963)
Cast:        El Santo as El Santo/The Saint
Claudio Brook as Dr. Karol
Norma Mora as Gloria
Ruben Rojo as Ricardo Carbajal
Story by Julio Porter & Fernando Galiana
Screenplay by Alfonso Corona Blake
Directed by Alfonso Corona Blake & Manuel San Fernando
Plot: Dr. Karol is up to no good as he is kidnapping people and turning them into real-life exhibits in his wax museum. However, they are still alive and part of his army, with which he plans to conquer the world.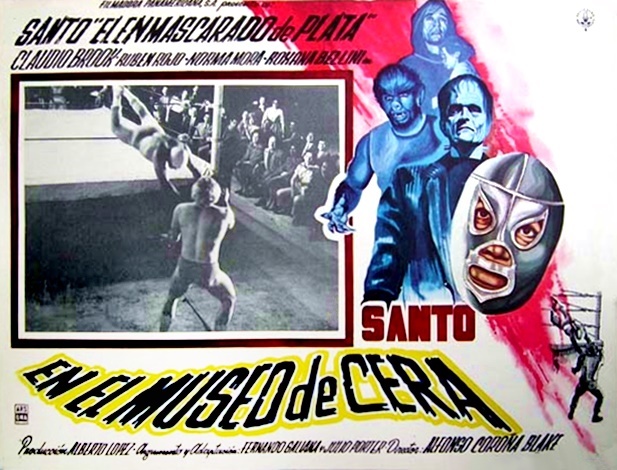 Richard's Review: This one is a homage to House of Wax and the Dr. Moreau movies. The evil Dr. Karol is turning people into mad wax creations but they are still alive to cause havoc. Then, as should be predicted by now, the creations turn on their mad creator. There is plenty of atmosphere here and a great follow-up to Santo contra Los Mujeres Vampiro. While we don't see any real classic monsters here, there's enough other adventure to keep you busy. Definitely recommended viewing!
Karla's Thoughts: I really loved this one as it feels like a classic horror flick. That was due mostly to the evil scientist turning people into wax and it seemed more credible. Well, it didn't make my scientific brain hurt as much. I also thought there was a better balance of wrestling in relation to the rest of the story. I'd definitely watch this one again.
Trivia:
One of the four Santo films dubbed into English and one of the three done by K. Gordon Murray.
Availability: You'll need to do some searching for this Santo film as it's a harder one to find on DVD with subtitles.
Special Thanks: Do yourself a favor and purchase a copy of The Mexican Masked Wrestler and Monster Filmography by Robert Michael "Bobb" Cotter. It has a ton of fantastic information and helped this writer flesh out the reviews for the Santo films.