2018 Countdown to Halloween – Day 20: Invasion of the Vampires (1963)
Cast:        Erna Bauman as Brunhilda Frankenhausen
Rafael del Rio as Dr. Ulises Albarran
Tito Junco as Guzman de la Serna
Fernando Soto as Crescencio
Bertha Moss as Frau Hildegarda
Carlos Agosti as Count Frankenhausen
Written and Directed by Miguel Morayta
Plot: Dr. Ulises Albarran arrives in a village being plagued by mysterious deaths. Young men are being lured to a lake by a ghostly woman in the night. Is it the work of the devil or could it be a vampire?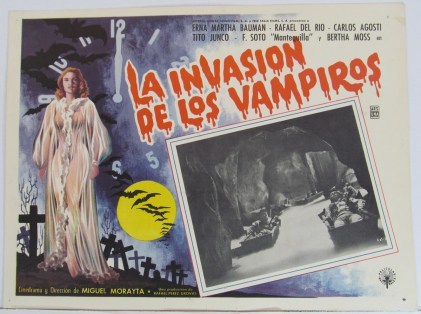 Richard's Review:  Despite featuring the returning Count Frankenhausen and Frau Hildegarda, there is really nothing connecting this flick to its predecessor, The Bloody Vampire (1962). It is the superior of the two films, full of atmosphere and creepy dark house sequences. The Count is actually quite good and the story is entertaining. Unfortunately, it's greatly weakened by the ridiculous vampire bat, not to mention the horrible English dubbing. If you can see the original, that would be the preferred option. That said, I did enjoy this one and would recommend it.
Karla's Thoughts: This movie was too long for the story it told. I enjoyed the doctor character as he seemed a bit like Van Helsing. The sets were beautiful and very atmospheric. I also loved the story and mood of the film overall. However, the vampire bat was absolutely ludicrous as it looked like a hairy baby with rabbit ears and bad teeth. Yet, it didn't ruin the film for me and I would definitely watch it again.
Trivia:
Dubbed into English by K. Gordon Murray and was a regular feature on late night horror shows.
Availability: Invasion of the Vampires is relatively easy to find on various DVDs in the English version.