2018 Countdown to Halloween – Day 23: The World of the Vampires (1961)
Cast:        Guillermo Murray as Count Sergio Subotai
Silvia Fournier as Mirta Colman
Mauricio Garces as Rodolfo Sabre
Erna Martha Bauman as Leonor Colman
Story by Raul Zenteno & Jesus Murcielago Velazquez
Adapted by Alfredo Salazar
Screenplay by Ramon Obon
Directed by Alfonso Corona Blake
Plot: A vampire seeks revenge against those who have hunted vampires but one man has a unique way of stopping him…with music.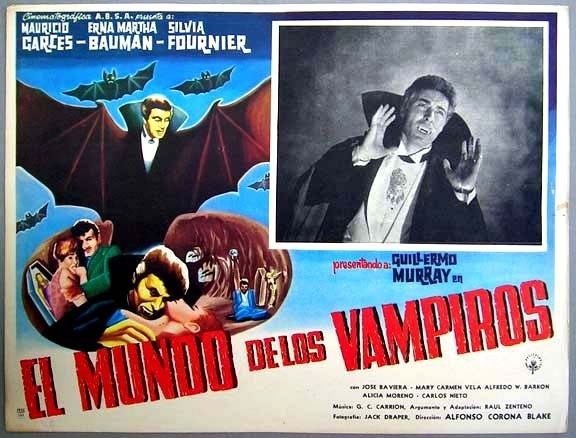 Richard's Review: Okay, this may very well be the worst film of this year's countdown. Our vampire count in this one is handsome and sensual enough but hardly menacing and the long fangs are just a little too much. I loved the atmosphere throughout the film, especially the bone organ, but the music was rather generic. Speaking of which, the overall idea that a song could have that effect on vampires is an odd choice. The masks used for the background vampires were way too cheap, hurting the film even more. Add all of these negative facts with the usual bad K. Gordon Murray dubbing and you have a flick that I won't be revisiting any time soon.
Karla's Thoughts: This one was just okay. I thought the vampire seemed really weak and the music part was just a little too weird for me. There were some fun visuals but the story just didn't click for me. And why did the sister kill herself at the end? The script needed some work. I don't think I'll be watching this one again.
Trivia:
Erna Martha Bauman also appeared as Countess Eugenia Frankenhausen in The Bloody Vampire (1962) and Brunhilda Frankenhausen in The Invasion of the Vampires (1963).
Dubbed into English by K. Gordon Murray.
Availability: This is available on DVD but with a horrible cover and an equally horrible price. You can find this cheaper on the bootleg market.