Every Christmas season, I will watch and listen to multiple versions of the Charles Dickens classic tale, A Christmas Carol. That said, the bar is set high for whenever I listen to a new version. For movies, Alastair Sim is king as Scrooge (1951) is the definitive adaptation. For audio, nothing surpasses Lionel Barrymore in the Campbell Playhouse presentation from 1939 that features Orson Welles and his Mercury Theatre Players. That said, I finally listened to one of the most recent audio plays that was released last year from Anthony D.P. Mann's Bleak December and what a holiday treat it was.
I've been singing the praises of Bleak December ever since I heard the first words of Tony Todd's performance as Count Dracula. Anthony has hit gold with his Bleak December productions and I know of his lifelong passion for A Christmas Carol. So, it's no surprise that it's present here in a full-cast production. Sylvester McCoy (Doctor Who, The Hobbit trilogy) headlines the cast as Ebenezer Scrooge and turns in an amazing performance. His compassion shines through a little earlier than other Scrooge's but with a 45-minute running time, the tale has to move along at a brisker pace. I was also pleased to hear Anthony himself appear as Jacob Marley's ghost. What a dream come true for him as I know he's a big Doctor Who fan and he can now boast having worked with two former Doctors in three different productions. He was great as Jacob Marley.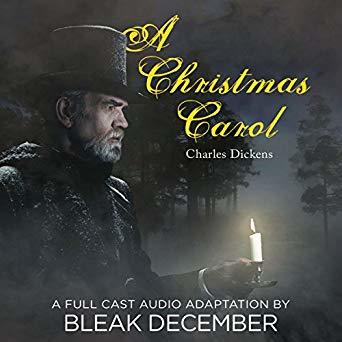 I'm unsure of the rest of the cast but everyone did a fantastic job. I loved how the tale was told in the abbreviated time frame without really missing any major elements. Yes, Scrooge's nephew doesn't appear but every adaptation has variations, which makes the adventure of watching or listening to them all that much more fun. I was surprised to hear how the Ghost of Christmas Present is portrayed. I've always heard or seen him as a king-like figure but here he's in the form of a cab driver. I enjoyed it for being something different and it left me curious as to Anthony's reasons for presenting him that way. The only change I might have suggested was the introduction of a narrator but given the format, that might not be appropriate. Also, McCoy provides some narration of a sort through his mumbling throughout. In the end, the lack of a narrator doesn't really hurt the production at all.
Special recognition must go to Brent Holland for a stunning score. I've heard great casts be let down by the lack of a good score but not here. Holland's score enhances the presentation and elevates it to the next level.
I cannot highly recommend Bleak December's production of A Christmas Carol enough. I purchased it too late in the season last year and I've been anxiously waiting to listen to it this year. My wife Karla and I listened to it as we drove around looking at Christmas lights. She loved it as well and we both agreed that this will now be part of our annual to watch/listen list every Christmas. Unfortunately, the limited edition vinyl from Cadabra Records sold out to subscribers before it was available to the public but it is still readily available through Brilliance Audio. Add it to your Christmas list today!