Countdown to Halloween Day 17 – Confessions of an Opium Eater (1962)
Cast:        Vincent Price as Gilbert De Quincey
Linda Ho as Ruby Low
Richard Loo as George Wah
June Kim as Lotus
Yvonne Moray as Child
Based on the novel by Thomas De Quincey
Screenplay by Robert Hill
Directed by Albert Zugsmith
Release Date: June 20, 1962
Plot: Gilbert De Quincey stumbles onto adventure as he helps runaway slaves in the middle of a tong war in San Francisco.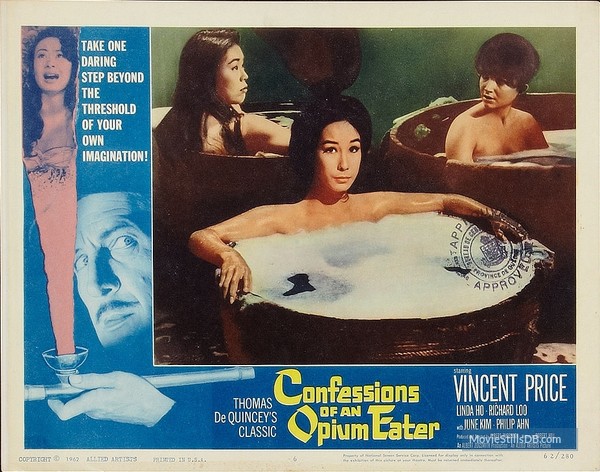 Richard's Review: This is only my second viewing and, considering I remembered almost nothing about it, I venture to say it may well be my last. Vincent Price always makes a film better but he had his work cut out for him with this one. The plot is all over the place and I'm not sure that any of the characters are very likeable. Oh sure, Vincent isn't too bad and the Child character made me laugh. I also enjoyed the music. However, the film is full of anachronisms for the early 19th century with devices like machine guns and a speed boat (seen briefly in stock footage). It's also incredibly bizarre. I just couldn't get into it, so it's not a recommendation for me.
Karla's Thoughts: I didn't like this one at all. Price wasn't very likeable and the plot was just too weird. In fact, I found the other characters and even the music equally odd. The movie was all over the place with no redeeming qualities. I won't watch this one again.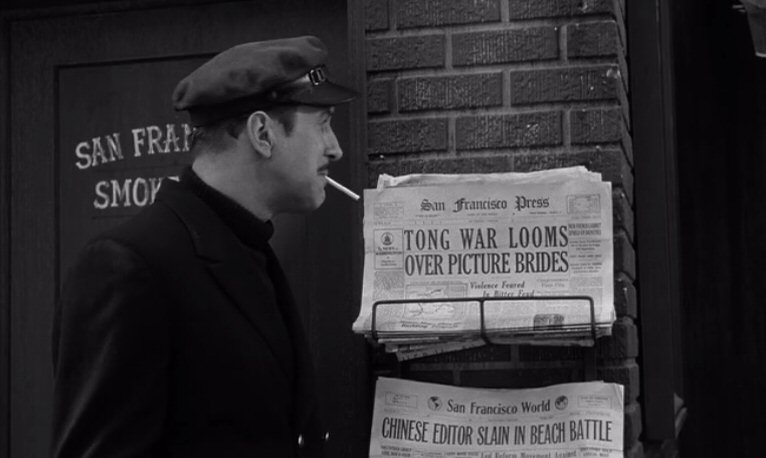 Trivia:
Vincent Price described this film as "the death of me" according to The Complete Films of Vincent Price by Lucy Chase Williams. I think that pretty much sums up his opinion of what is one of his most bizarre and forgettable roles.
The film was originally going to be filmed by William Castle in 1959 and was even slated to be in color.
Most critics hated the film, writing it off as silly at best. Even the marketing department seemed to be a little off-base with this one. One of their "ideas" was to have an "Oriental girl" in a bamboo cage in the lobby. And if you couldn't find one, just get a white girl to dress up as one. Seriously? I wonder if any theater actually attempted that brilliant idea.
The rest of director Albert Zugsmith's career was full of "classics," such as Sex Kittens Go to College (1960) and The Incredible Sex Revolution (1965).
Writer Robert Hill is also responsible for Tarzan, the Ape Man (1959), one of the worst Tarzan films ever made.
Composer Albert Glasser did work on more than 100 films, including Monster from Green Hell (1957) and The Amazing Colossal Man (1957).
Angelo Rossitto is best remembered for his countless horror roles in films such as Freaks (1932) and Scared to Death (1947) with Bela Lugosi.
John Fujioka (Auctioneer), billed here as John Mamo, made his theatrical debit here at the age of 37. He went on to star in nearly 100 films and TV roles, including as Kuroda in two episodes of The Six Million Dollar Man, The Last Kamikaze and The Wolf Boy.
Victor Sen Yung (Wing Young) had previously played Jimmy Chan in the Charlie Chan film series in the 30s and 40s.
Yvonne Moray (Child) was 44 at the time of filming. This was only her fourth and final film, having appeared as a Lullabye League Member in The Wizard of Oz (1939). She is reportedly still alive, which, if true, would make her 102 years old in 2019.
Availability: Confessions of an Opium Eater is available on an out-of-print DVD. Shop around for the best price!