Countdown to Halloween Day 22 – The Abominable Dr. Phibes (1971)
Cast:        Vincent Price as Dr. Anton Phibes
Joseph Cotton as Dr. Vesalius
Virginia North as Vulnavia
Terry Thomas as Dr. Longstreet
Caroline Munro as Victoria Regina Phibes
Peter Jeffrey as Inspector Trout
John Cater as Superintendent Waverly
Produced by Samuel Z. Arkoff & James Nicholson
Music by Basil Kirchin
Written by James Whiton & William Goldstein
Directed by Robert Fuest
Release Date: May 18, 1971
Plot: Dr. Anton Phibes, killed in a car crash upon learning about the death of his wife, returns to seek vengeance upon the doctors who failed to save his wife by using the nine Biblical plagues of Egypt as inspirations for their deaths.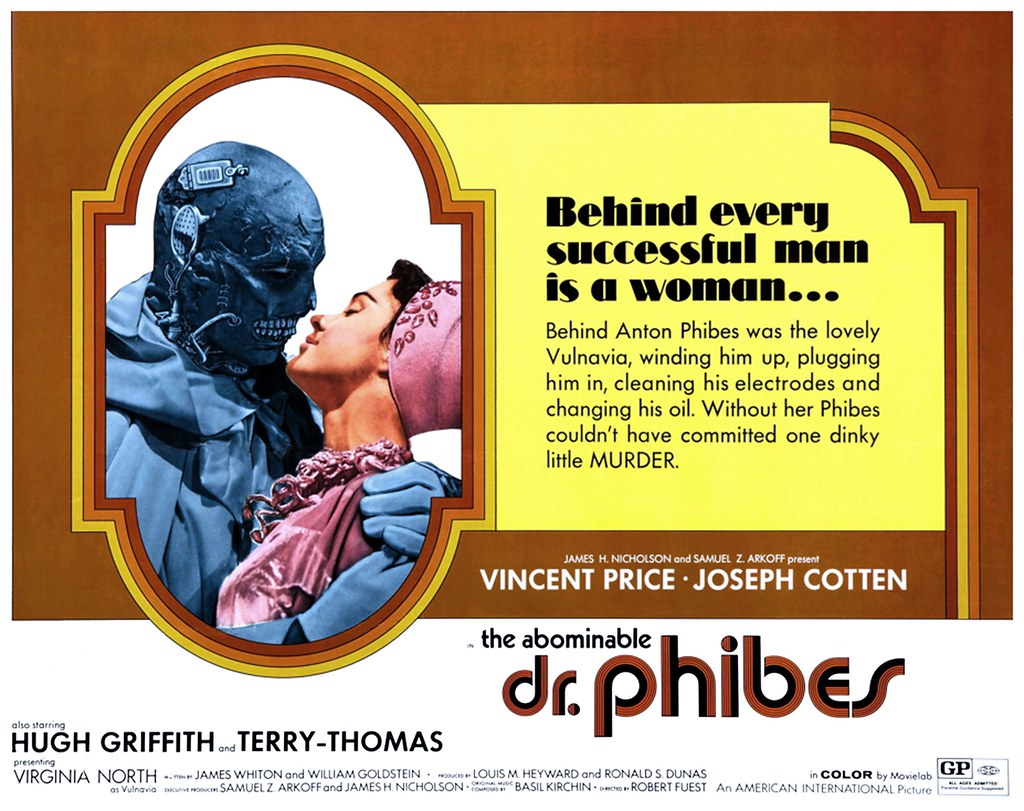 Richard's Review: For whatever reason, this movie didn't click with me when I first watched it. In fact, it took several viewings to appreciate the greatness that lurks within its' celluloid frames. Now, it's one of my personal favorites from the Vincent Price filmography. I love everything about this classic as Price is chewing up the scenery from start to finish as only he could do.  Highly recommended!
Karla's Thoughts: I really enjoyed this one. The deaths are imaginative but not quite too gruesome, at least in the way they are presented on screen. Price is so good in his role as Dr. Phibes and is really a highlight of the film. Everything seems to be in a different type of world, not quite the real one as everything is just a little off, such as the bungling policemen and the ever-present Vulnavia. One of my favorites, so I'll definitely watch this one again and again.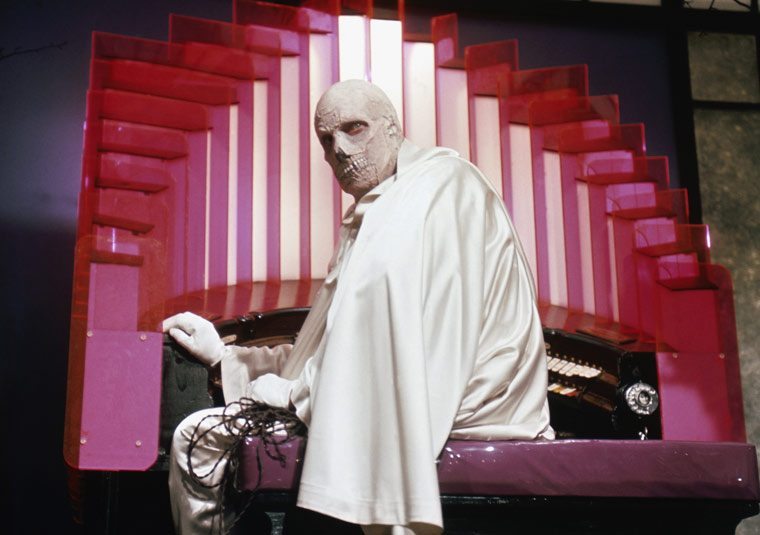 Trivia:
Robert Fuest went on to direct the sequel, Dr. Phibes Rises Again (1972), as well as another cult classic, The Devil's Rain (1975).
James Whiton also wrote episodes of The Man from U.N.C.L.E. and Voyage to the Bottom of the Sea.
Dr. Vesalius was originally to be played by Peter Cushing.
Ian Marter (Dr. Harry Sullivan on Doctor Who) briefly appears as the third policeman.
Joanna Lumley (The New Avengers) appeared as a lab assistant in a deleted scene.
Dr. Phibes' murders were inspired by the ten plagues of Egypt found in the Old Testament as follows (gnats and flies were replaced with bats and rats):

Blood (the blood is drained from Dr. Longstreet's body)
Frogs (Dr. Hargreaves's throat is crushed by a mechanical frog mask)
Bats (Dr. Dunwoody is mauled to death by bats)
Rats (Dr. Kitaj crashes his plane when he is attacked by rats)
Diseased animals (Dr. Whitcombe is speared by the horn of a brass unicorn head)
Boils (Prof. Thornton is stung to death by bees; it's referenced but not shown)
Hail (Dr. Hedgepath is frozen to death by a machine spewing ice)
Locusts (Nurse Allen is eaten by locusts)
Darkness (The depiction of a solar eclipse at the very end)
Death of the firstborn (Phibes kidnaps and attempts to kill Dr. Vesalius's son)
Availability: The Abominable Dr. Phibes is available on DVD as part of the Vincent Price: MGM Scream Legends Collection.