Countdown to Halloween Day 30 – Masque of the Red Death (1964)
Cast:        Vincent Price as Prince Prospero
Hazel Court as Juliana
Jane Asher as Francesca
David Weston as Gino
Nigel Green as Ludovico
Patrick Magee as Alfredo
Skip Martin as Hop Toad
Verina Greenlaw as Esmerelda
John Westbrook as The Man in Red
Based on a short story by Edgar Allan Poe
Screenplay by Charles Beaumont & R. Wright Campbell
Directed by Roger Corman
Release Date: June 24, 1964
Plot: When Prince Prospero discovers the Red Death has arrived in a nearby village, he takes the lovely Francesca to his castle where he and his guests worship Satan and partake in sins of the flesh. However, the mysterious Man in Red has other plans.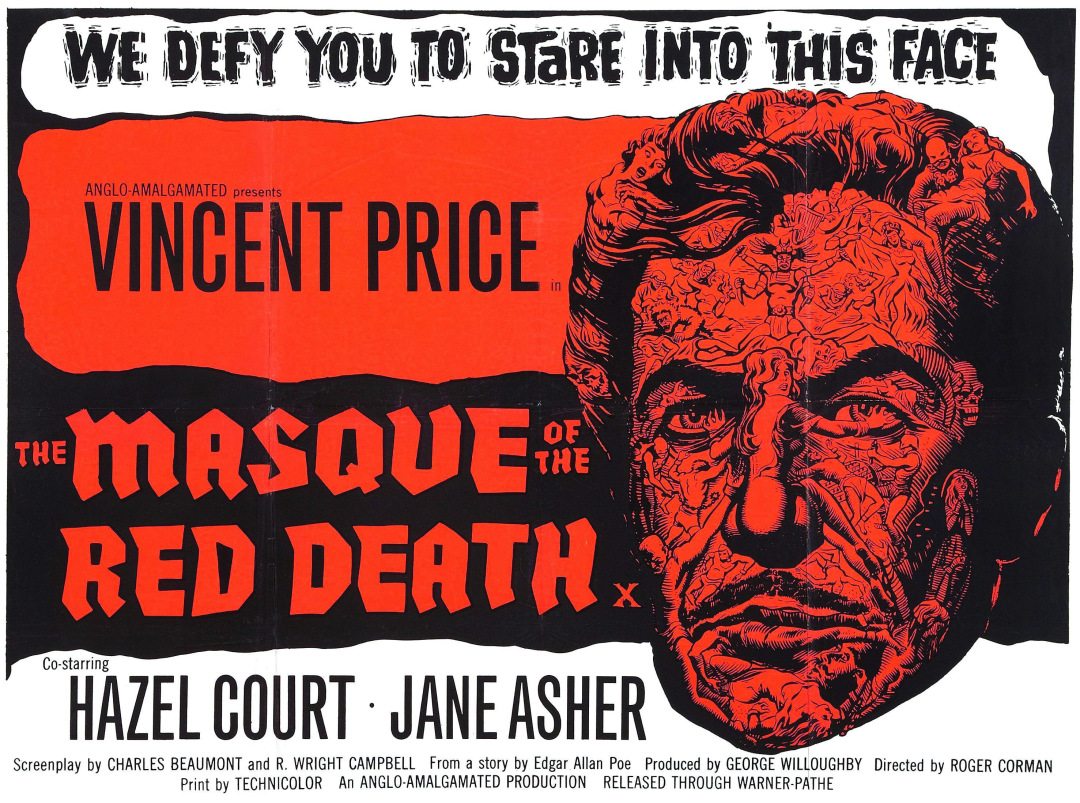 Richard's Review: I absolutely love this film and it's one of my favorites of Vincent Price. He is so deliciously evil as Prince Prospero. The cast of oddball characters surrounding him are entertaining, especially Hop Toad, whose mannerisms and dialogue made me think of Tyrian from Game of Thrones. However, I have to say I was a little disturbed by Esmerelda being played by a young girl as Alfredo stared at her in lust. Aside from that odd moment, the movie is dark and wicked…and I love it.
Karla's Thoughts: Vincent Price was amazing and flawless but I really hated to see him play such an evil role. The story was good but a little too dark for me at times. The senseless deaths, such as killing the villagers, and taking pleasure from watching others suffer, was a little hard to watch. This is a really good movie but I'd probably not watch again because it was too dark.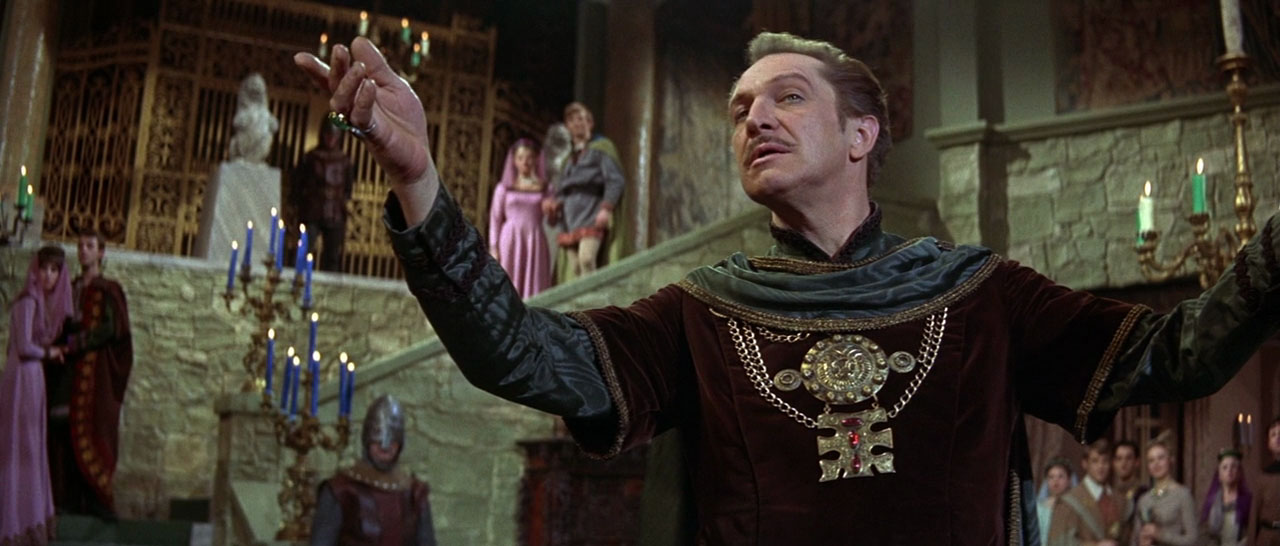 Trivia:
Each of the men in various colors at the end of the film are meant to represent a different form of death, such as gold for leprosy and black for the black death.
Corman had originally wanted this to be his second Poe flick but decided to wait as he felt elements of the film were similar to The Seventh Seal (1957).
Two miles of corridors were constructed to enhance the visual scope of Prospero's castle.
Hazel Court starred in numerous genre films, including The Curse of Frankenstein (1957) with Peter Cushing and The Man Who Could Cheat Death (1959), both starring Christopher Lee. She also worked with Vincent Price and Boris Karloff in The Raven (1963).
Jane Asher brought a random friend to the set one day and introduced him to Roger Corman, who did not know who he was. The next day, he read that the young man was Paul McCartney.
David Weston also starred in Witchcraft (1964) as well as episodes of UFO and The Tomorrow People, as well as seven episodes of Doctor Who.
Nigel Green also starred in Corridors of Blood (1958) with Boris Karloff, Jason and the Argonauts (1963), The Skull (1965) with Peter Cushing and Christopher Lee and Countess Dracula (1971).
Patrick Magee also appeared in Dementia 13 (1963), The Skull (1965) and Die, Monster, Die (1965) with Boris Karloff.
Skip Martin also starred in Corridors of Blood (1958), Vampire Circus (1972) and Son of Dracula (1973).
Verina Greenlaw was only 8 years old but was supposed to be playing an adult woman. Her role was voiced by an unknown adult actress.
John Westbrook also starred in The Tomb of Ligeia (1964) and appeared in numerous British television series including Blake's 7.
Availability: Masque of the Red Death was available on Blu-ray as part of The Vincent Price Collection I. However, unless you already have it in your collection or have a spare $400 lying around, your better bet is to find the out-of-print Midnite Movies DVD but be patient as you shop around for the best price (pun intended).