Anyone who truly knows me understands that I've been a lifelong Trekkie. One of my earliest memories is of watching Captain Kirk battle the Greek god Apollo circa 1970 at the age of 3. In the fall of 1987, eager for anything new from Star Trek, I cautiously watched the first episode of Star Trek: The Next Generation. I was instantly hooked. There were some rough episodes in those first two seasons but nothing would match my excitement and anticipation during the summer of 1990 as I waited to see what happened with Captain Picard and the Borg. So, when CBS announced a new series with Patrick Stewart, I was immediately intrigued but also very weary. After all, this was the same company that produced Star Trek: Discovery, a series I've come to enjoy for what it is but I did not want them to change anything about Jean-Luc Picard. Now, after watching the first episode of Star Trek: Picard, I can say my fears are gone and replaced with complete joy.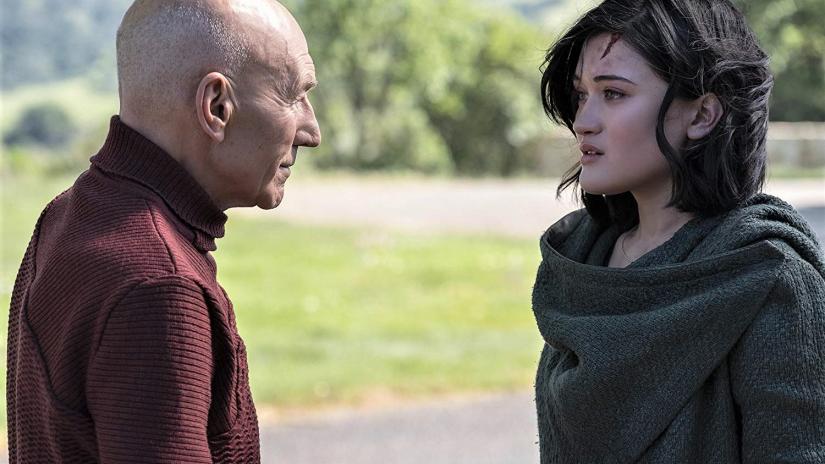 For starters, this series is not a reboot nor is simply an eighth season of Next Generation. It picks up nearly 20 years after the events of the last movie, Star Trek: Nemesis (2002). It also acknowledges the events from the opening moments of Star Trek (2009), the movie which introduced us to the infamous Kelvin timeline. However, it is still the universe of Next Generation, the Prime universe as some call it. Romulus has indeed been destroyed but rather than focusing on the altered timeline, it shows us what happened in the timeline we've all come to love since we first watched Captain Kirk playing chess with Mr. Spock in the opening moments of Where No Man Has Gone Before (1966). However, the Federation and Starfleet have changed in ways that will continue to unfold over the course of the next nine episodes. It's a reflection of the world around us, something Star Trek has always been about when it was at its best.
Visually, the first episode was stunning. The scenes of the Picard vineyards are reminiscent of when we last saw them in the fall of 1990 in the episode Family. However, they've been expanded for this new high definition widescreen world we now live in. I loved the simple scenes of an older Picard walking around with his cane and his new Number One, an absolutely adorable Pitbull that serves as both protector and companion. Picard is not the same man we last saw because nearly 20 years have passed. Events have changed him and, as he states in one scene, he's been a man waiting to die. But mystery and adventure come knocking on the door. With that, a spark of life has been ignited in the retired Admiral that will set him on course for the answers he seeks in forthcoming episodes.
"Sitting here, all these years. Nursing my offended dignity. Writing books of history people prefer to forget. I never asked anything of myself, at all. I haven't been living, I've been waiting to die."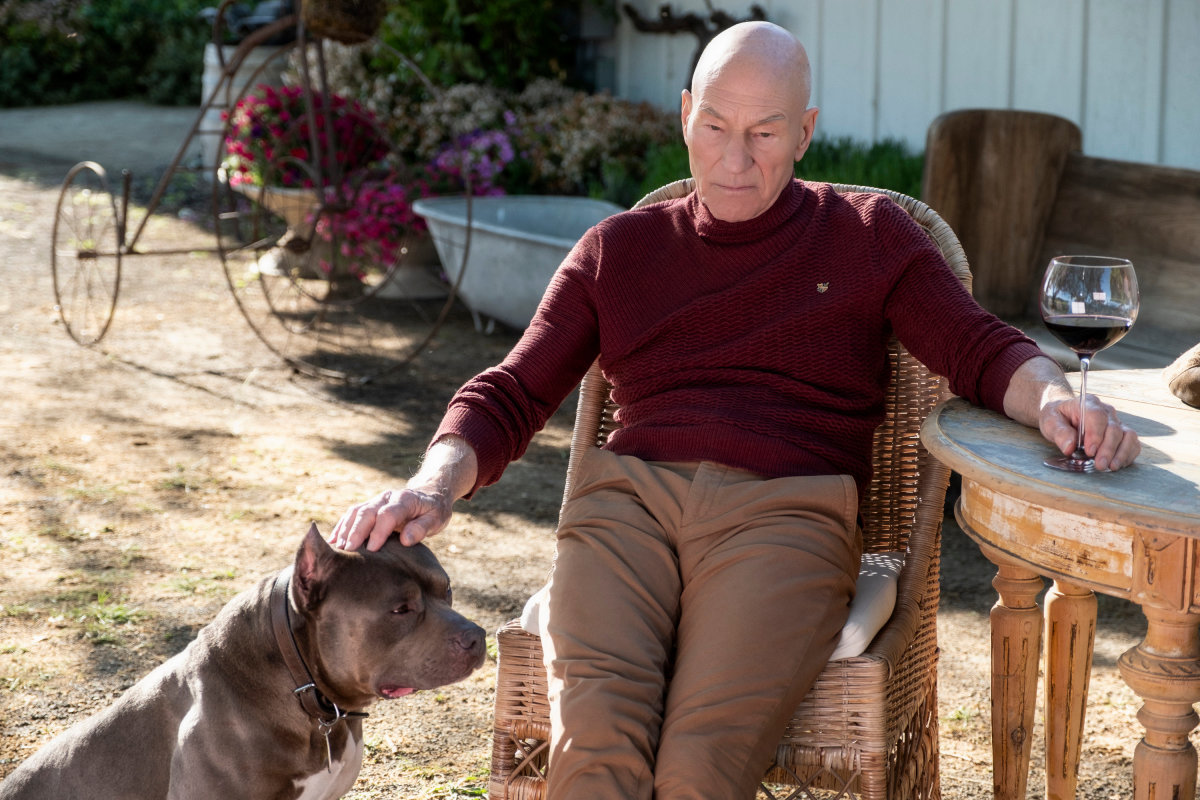 The crew behind Star Trek: Picard got everything right in this first episode, from the music of Jeff Russo to the never-ending references to the past of Next Generation. The opening moments of the Enterprise D and Blue Skies playing in the background as we see Picard and Data on Ten Forward will warm any Trekkies heart. You can't help but get emotional. As the opening theme plays, you hear the subtle flute channeling the music of The Inner Light, one of the best episodes of any Star Trek series. I know that Patrick Stewart's guiding hand has played a huge part in the creation of this series. They didn't rewrite the universe and by setting it in the future, they've avoided the problems that Star Trek: Discovery has faced throughout its first two seasons. They've chosen to move forward with new ideas without forgetting what made us all love Next Generation in the first place. It left me smiling and feeling like that younger version of me in 1987. It's similar yet different in all of the right ways. It hasn't forgotten what Star Trek is truly about.
Having just finished revisiting the entire series and four theatrical films on Blu-ray, I can honestly say they haven't skipped a beat. While I've come to enjoy Discovery, there was always something missing and a little off, even in the vastly improved second season. Here, with just one episode, Star Trek: Picard has succeeded in a way that's been missing since the era of Next Generation ended. This is my Star Trek and it has left me wanting more. I highly recommend it for Trekkies who have been nostalgic for the past. We're all 20 years older, a little wiser, and a little slower but with the same fire and passion that was simply waiting to be reignited. Welcome back Jean-Luc. You're the hero the Star Trek universe has been waiting for. This is my Star Trek.