We all know how stressful and uncertain things are right now. We each have our own way to help everyone get through this in one piece. We're staying home, hibernating and laying low. This is giving us more time to slow down and finally read that book or watch that movie that's been on our shelf for a while now. Some of you may even need some suggestions and that's where the Monster Conservancy can help!
First of all, many of you are probably wondering what the Monster Conservancy is all about. We're a group dedicated to the appreciation and conservation of classic monsters in the movies and anywhere else monsters are found. Some of us are writers and some are filmmakers, while others are special effects wizards and podcasters. We all have something special to offer and we want to help you right now!
So, take a few minutes to check out the following suggestions to help you get started. This is the perfect time to experience something new.
Podcasts, Websites and YouTube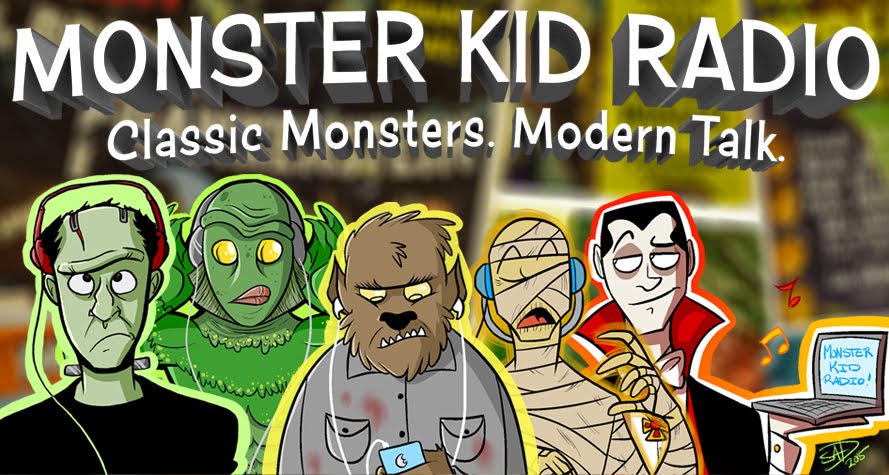 Monster Portrait art by Shelby Denham
Monster Kid Radio: Derek M. Koch has been hosting this Rondo Award Winning podcast since May 2013, offering up a weekly slice of monster goodness. With a never-ending array of guests and classic monster flicks to choose from, Derek entertains his listeners each and every week by talking about the movies we all love. The podcast is available on iTunes and you can get all of the latest information on the Monster Kid Radio website. When Derek isn't podcasting, you can check out his multiple YouTube channels, including Monster Kid Radio, Comicstalgia, Monster Kid Writer and It's Pronounced Cook.
Monthly Mihmiverse Audiocast: Christopher R. Mihm hosts this monthly podcast focusing on all of the latest news from the Mihmiverse and other features, such as jokes, poetry and the Kansas City Crypt from the Monster Movie Kid, Richard Chamberlain. It's available from Apple Podcasts and archive.org.
Classic Horrors Club Podcast: Launched in January 2017 by Jeff Owens and Richard Chamberlain, this monthly podcast offers up lively conversation on the monster movies we all love, from the silent era to the 1970s, and sometimes we even dip our toes into the 80s and beyond. You can find the podcast on iTunes and Soundcloud with links each month on the multiple blogs Jeff and Richard each write. Jeff helps you navigate the ages of horror with the Classic Horrors Club blog, as well as his passion for comics in DC Comics Guy and all other films in general on The Reaction Shot. Richard focuses on horror films on Monster Movie Kid and all other films on Kansas City Cinephile.

Movies, Movies, Movies
Christopher R. Mihm and the Mihmiverse: Christopher is the writer, director and producer of the films of the Mihmiverse. Ever since 2006 and his first film, The Monster of Phantom Lake, he's been creating one new film a year, each with an authentic-as-possible 1950s-style. All 14 of his films are currently available on the new Drive-In Monsters channel on Roku and on Vimeo, while some are also available on Amazon Prime Video and DVD/Blu-Ray. And be sure to take a special look at the cool monsters as special effects master Mitch Gonzales is the wizard behind some amazing creations. Check out sainteuphoria.com for more information, including the latest news and other cool items for sale.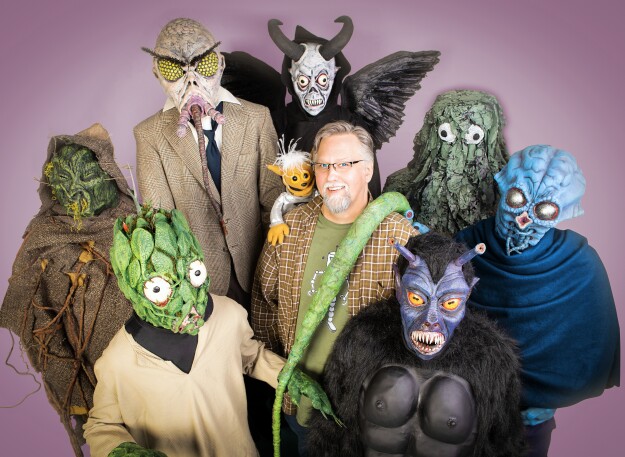 You can now own a copy of the newly-commissioned, official Mihmiverse promotional photo taken by Christi Jean Williams (Mrs. Davis in "Queen of Snakes") of Grinkie Photography!
Joshua Kennedy – Man of the Arts: Joshua is the mastermind behind Gooey Films with 16 finished films to his credit and at least two more in production. You can watch Dracula A.D. 2015, Airline '79 and The Alpha Omega Man for free on YouTube right now. Then, head on over to Oldies.com for other titles on DVD like The Attack of the Octopus People or Theseus and the Minotaur. Finally, check out the Gooey Films Store as copies of House of the Gorgon are still available, featuring Hammer legends like Caroline Munro and Martine Beswicke, plus special effects artist Mitch Gonzales!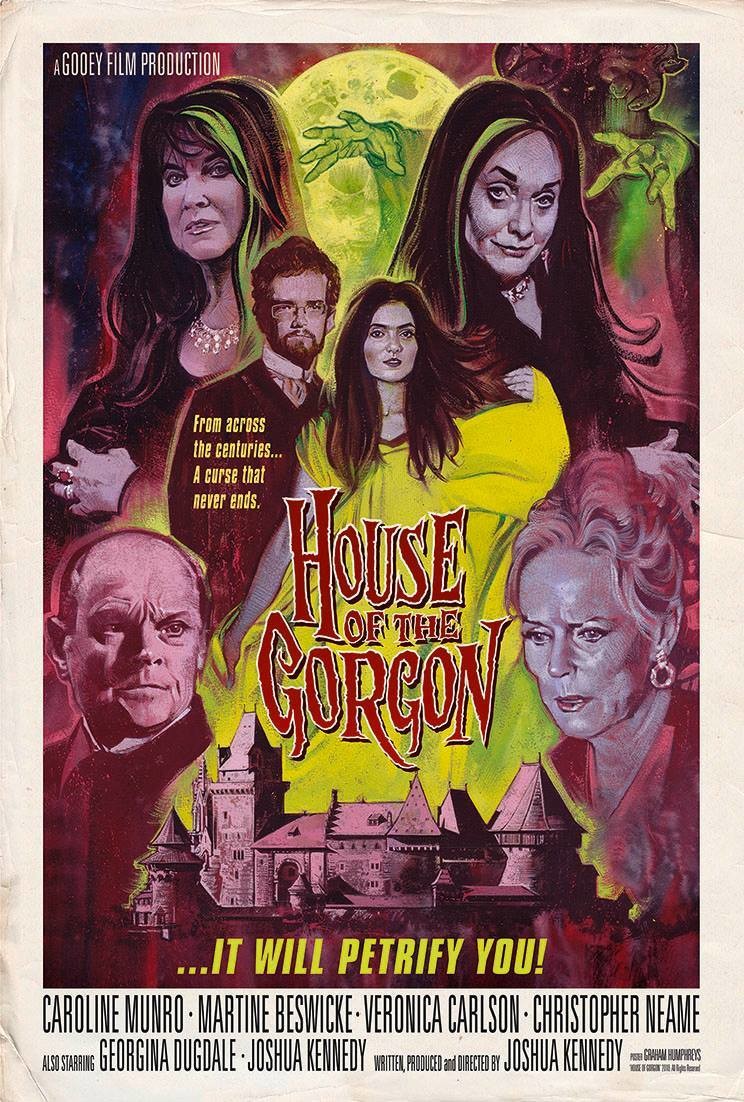 Written Works
Stephen D. Sullivan: Stephen has been working professionally in fantasy publishing as an author, artist, and editor since 1980. Whether it's Cushing Horrors, Daikaiju Attack, Frost Harrow or the Scribe Award Winning Manos: The Hands of Fate, there is so much fantastic work to choose from. You can buy books in print and e-book form, as well as other great merchandise, on his website. And when he's not writing, you can hear him as a frequent guest on Monster Kid Radio. Add some or all of his titles to your personal collection!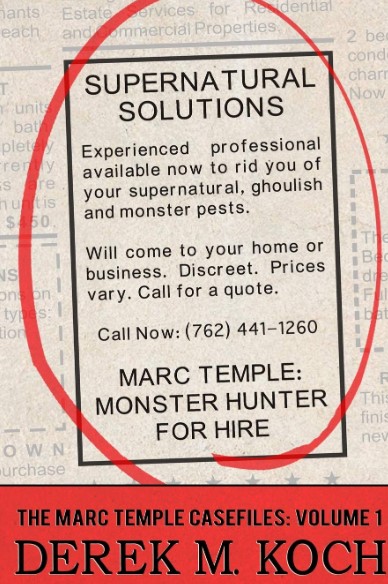 Derek M. Koch: When Derek isn't podcasting or creating videos for YouTube, he's hard at work as a writer. Monster Hunter for Hire is the first in the new Marc Temple Casefiles series. It features vampires, werewolves and zombies. What more do you need to know? It's available on Amazon in Kindle and paperback, so hurry up and add it to your library today.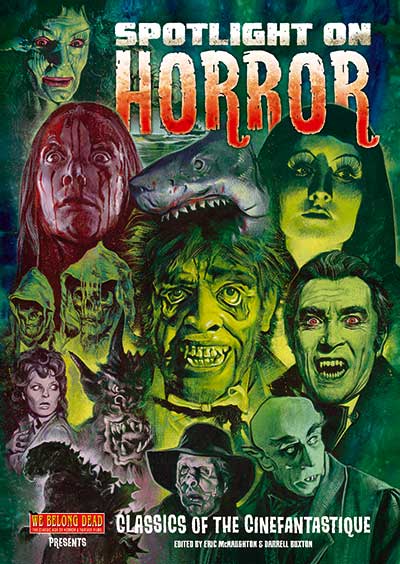 Jeff Owens: Jeff has been a contributor to numerous books from We Belong Dead for several years now. He's been featured in such fantastic titles as Unsung Horrors, Into the Velvet Darkness: A Celebration of Vincent Price and their latest release, Spotlight on Horror. Check out their website today for more information. These books are amazing and worthy of any monster kid's library.
Check out savemonsters.com today for the Monster Conservancy!