When you think of Boris Karloff, I'm sure visions of the Frankenstein Monster or a mad scientist come to your mind. This time of year, you might even think of the Grinch. But the horror legend was much more than just an actor on stage and screen, he was also an active participant in the theatre of the mind…old time radio. In honor of the anniversary of Mr. Karloff's birthday tomorrow, let's take a look and a listen to some of his greatest old time radio programs.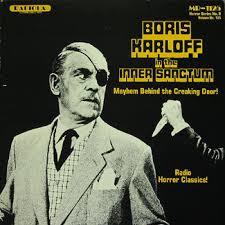 Radio was once one of the primary forms of entertainment in the days before everyone had a television, not to mention the internet and cell phones. Every night, families would gather around the radio to listen to comedies and dramas, or the local bar to catch the baseball game. During World War II, it was a vital lifeline to news about how well our boys were doing. And much like the TV stars of today, there were celebrities attached to radio programs that became famous in their own right. Sometimes, it would be the first step in a long career that would expand to the big screen or television. In other cases, established Hollywood stars would stop by and contribute their talents to programs like the Lux Radio Theater or Suspense. And for someone with such a unique voice as Boris, radio seemed like a natural home.
Boris made his first appearances on radio as early as 1932 but many of those would be promotional for an upcoming film or a small skit on an ensemble show. But by the late 1930s, as his star was shining bright, he would begin to lend his voice to programs highlighting his status as a horror legend. He would appear on several episodes of Arch Oboler's Lights Out, including the chilling Cat Wife on April 6, 1938. He was also a frequent star on numerous episodes of Inner Sanctum Mysteries during his time on the stage production of Arsenic and Old Lace.
Not all of his appearances were scary as he loved to have fun with such comedians as Jack Benny or Fred Allen, not to mention Edgar Bergen and his friend Charlie McCarthy. He would pop in for a song with Bing Crosby or talk about sports stories with, of course, a murder theme. It seemed only natural that he have his own show, which happened in 1949 with Starring Boris Karloff.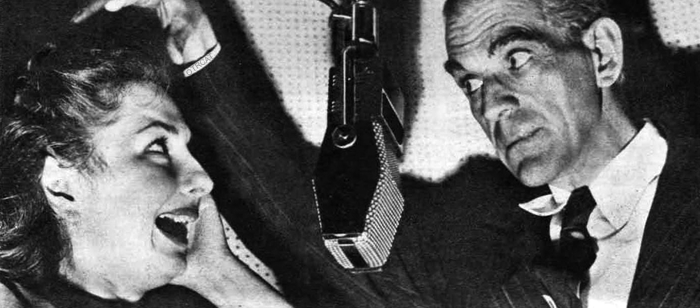 Eventually, Boris would begin to look at television, where he would have numerous guest appearances and several of his own programs, such as The Veil and Thriller. But he wasn't quite done with radio yet. He would record numerous editions of Tales from the Reader's Digest that aired from 1959 until after his death.
Sadly, many of the radio programs no longer exist. However, many still do and are available to listen to again and again. There are all in the public domain, so you can find them online from numerous sources. To help you get started on your journey, I've included some of my favorites below. I hope you enjoy them as old time radio is such a wonderful treasure trove of amazing stories and talent. And when someone like Boris stops by, you know you're getting treated to a classic. So, on this recognition of Boris Karloff's day of birth, why don't we dim the lights and enter the theatre of the mind.