Countdown to Halloween Day 31 – House of Wax (1953)
Cast:        Vincent Price as Professor Henry Jarrod
Phyllis Kirk as Sue Allen
Frank Lovejoy as Detective Tom Brennan
Paul Picerni as Scott Andrews
Carolyn Jones as Cathy Gray
Dabbs Greer as Sgt. Jim Shane
Charles Bronson (billed as Charles Buchinsky) as Igor
Story by Charles Belden
Screenplay by Crane Wilbur
Directed by Andre De Toth
Release Date: April 25, 1953
Plot: When his max museum is burned down, creator Professor Henry Jarrod survives to once again open a new museum. But where does he find the lifelike bodies?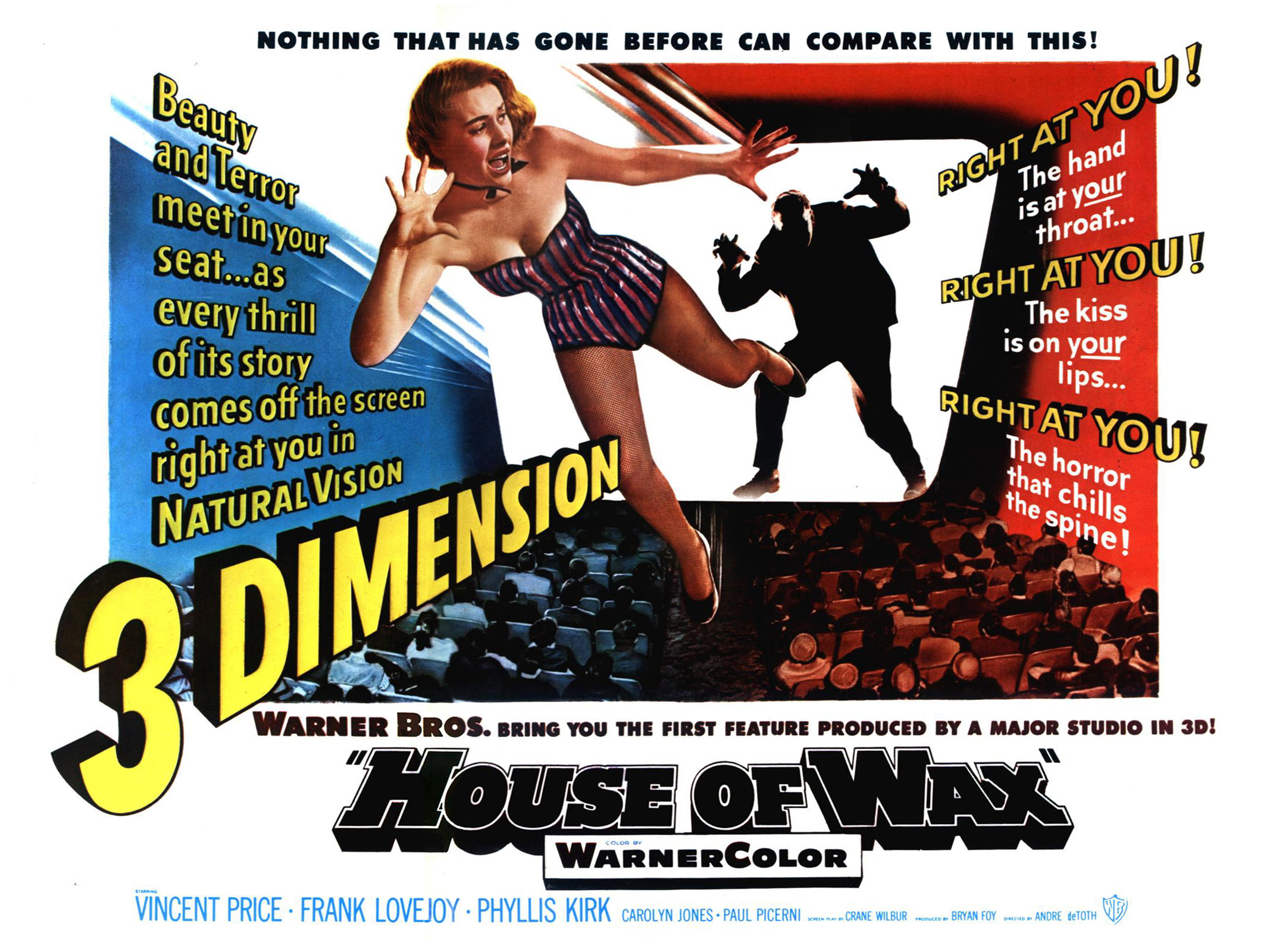 Richard's Review: Having just watched Mystery of the Wax Museum (1933) a few months ago, it was interesting to watch House of Wax and do some compare and contrasting. Personally, I prefer Price over Lionel Atwill but there was less mystery here as to who was the scarred man. I kind of missed the reporter role but the vivid colors here are spectacular. But I could have done without the somewhat annoying barker segment, placed to utilize the 3D effects. Beautifully filmed, this is truly one of Vincent Price's masterpieces. Highly recommended!
Karla's Thoughts: I loved House of Wax as Vincent Price was awesome in one of his best roles. The colors were amazing. It is definitely different at times from the original, such as in the prolonged opening sequence and the lack of the reporter role. The lead actress here had so much more to do than Fay Wray in the original because of the way the story revolved around her more. I would definitely watch this one again.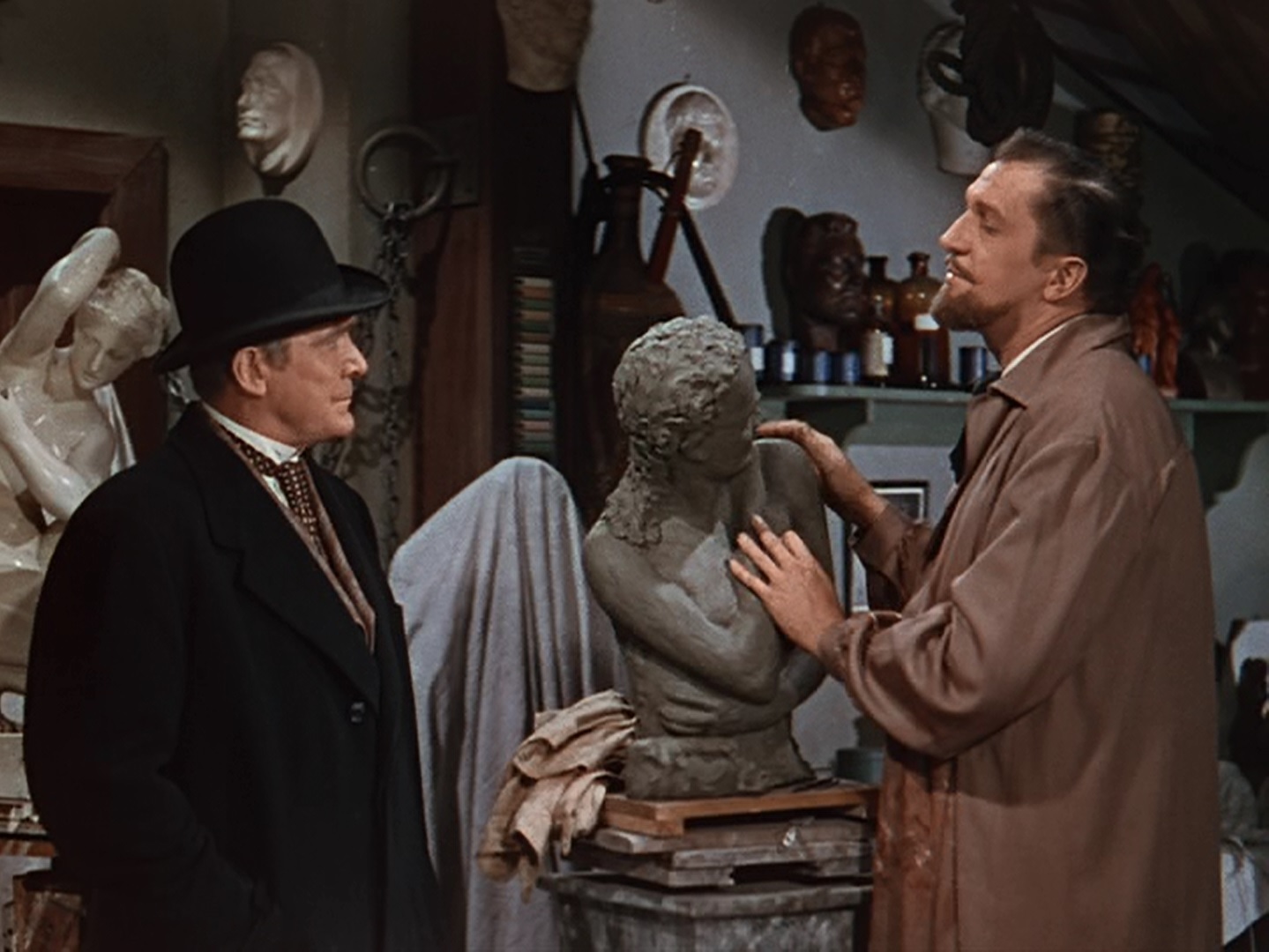 Trivia:
Andre De Toth was actually blind in one eye, made all the more interesting considering this movie was made in 3D.
Vincent Price was nearly burned when the wax museum fire scene got out of control.
Phyllis Kirk is well-known actress for her television roles in such shows as The Twilight Zone, Suspense and Tales of Tomorrow.
Frank Lovejoy usually played hard-edged or detective-type roles in films, such as Brub Nicolai opposite Humphrey Bogart in the film In a Lonely Place (1950).
Carolyn Jones is best remembered for playing Morticia Addams in The Addams Family. She also starred as Marsha, Queen of Diamonds on Batman in the 60s.
Paul Percini had a long-running career with over 200 credits on screen and television, including roles in Alfred Hitchcock Presents, Zorro, The Time Tunnel and Batman.
Dabbs Greer is better remembered Reverend Alden in Little House on the Prairie but also starred in Science Fiction Theatre, Alfred Hitchcock Presents and Invasion of the Body Snatchers (1956).
Charles Bronson worked with Vincent Price again in Master of the World (1961) but is best remembered for his Death Wish film series and other film roles, such as The Magnificent Seven (1960) and Once Upon a Time in the West (1968).
Bela Lugosi appeared at the film premiere wearing a vampire cape and with a man in a gorilla suit on chain.
Availability: House of Wax is available on Blu-ray from Warner Brothers, which also includes Mystery of the Wax Museum (1933).